BROOKLYN ChopHouse, Time Square…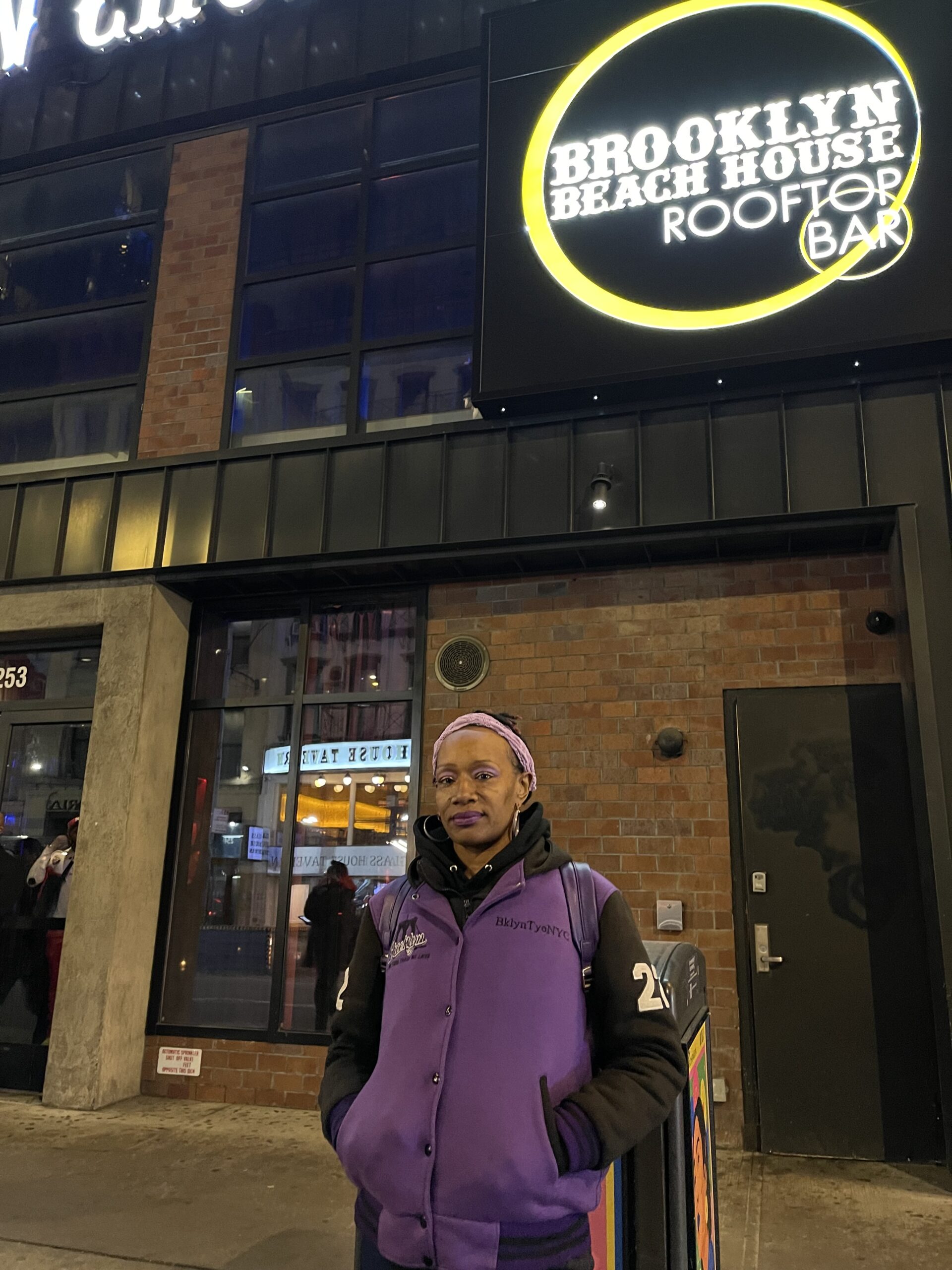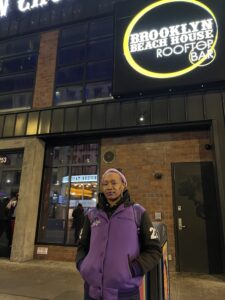 When I got word that one of my favorite Black Owned Restaurants would be opening a new location in Time Square, I had to be one of the first to check it out. The location I frequent the most is (also) ironically in Downtown Manhattan, NYC, right off to the side of the Brooklyn Bridge (150 Nassau Street, New York, NY 10038). I share a lot of Mommy-Daughter Date Nights with my 15yr old daughter there. But as most know and to those who don't, when you're (from) BROOKLYN, YOU'RE GOOD EVERYWHERE!!!
Me & Heavan @Nassau St location
On Monday, March, 14th 2022, the Newest Spot Officially opened; Located at, 253 W. 47th Street, New York, NY 10036. Their hours are, Sunday -Wednesday: 4pm -11pm (Last seating @11pm) // Thursday: 4pm – 12am (Last seating @11:15pm) // Friday – Saturday: 4pm – 2am (Call for Last seating) 212-619-1210. You can also check out their link for Reservations, to Book an Event or even just to simply Check Out the Menu -> Brooklyn Chop House, Time Square
 I state these things first so you can hurry and make reservations because BROOKLYN CHOPHOUSE is a highly recommended spot. Whether you want to dine alone or you have friends and/or family coming into town, Brooklyn Chop House (BCH) is the spot to be. I would even suggest you bring someone you are trying to impress for a treat because although BCH is Classy, to say the least, its also very affordable. No doubt about it, you will definitely get more for your buck$$.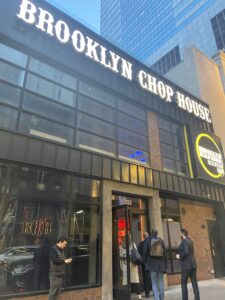 I was able to get there the day after opening day. I invited my son and he also brought a friend. I could not experience this alone. We each traveled by train/subway. BCH is literally in the heart of Time Square so it's easiest to travel by the MTA. You can take car service but with NYC traffic… Why? You can also drive but why pay for parking? Plus, to me, personally, 42nd Street-Time Square is meant to be experienced out in the open. What better way to enjoy a night out in the 'City that (literally) Never Sleeps!', than with a nice meal with drinks at a nice spot accompanied by Dope music overhead, amazing staff, followed by a nice stroll afterwards to walk the meal off before the ITUS sets in.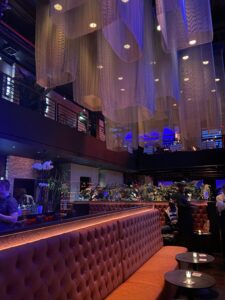 We planned to link up at BCH at 6pm which gave me enough time to chill with them, catch up then walk to the train and head to my overnight work shift at 11pm. I arrived a little early because I wanted to case the scene for myself. When I first walked up to the establishment, there was a Doorman/Security person who greeted me and I immediately felt protected but more so as if a Red Carpet was being rolled out. It was welcoming. When I entered, the vibe was something I'd never felt before, Bar None. The atmosphere hits you at every corner. Then a hostess asked if I had reservations which I did. The way the music hit me, I knew the night was about to be Amazing.
While I waited for my guest, I decided to sit at the bar and have a drink. The bartender, Donna, made me a Jameson Sour and it was D'Lish! I was happy there were HOOKS! Hooks are one of the 1st things I check for when I go out anywhere that has a 'bar' because it makes me feel like the owner wants you to sit and stay a while; be comfortable without having to sit your personal items on your lap or behind your chair. Not in this case but I also look for an outlet because I always need to charge my cell phone. (If you know me in real life, you know this to be a fact, lol).  I ordered a Jameson Sour, bopped my head to a Mary J. Blige hit that was playing and just took it all in.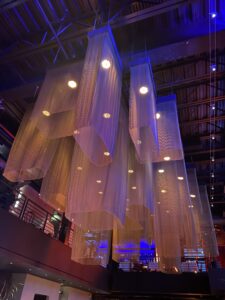 Tonyio and Alleyne arrived and I let the hostess know we'd like to sit downstairs although there's 2-floors. There are booths as well as open tables and some tables have curtains for privacy if you are having a private event or if you want to just have an intimate meal with your significant other. It's also a vibe if you are by yourself and you just want some ME time. The staff wore aprons with Leather on them and BROOKLYN CHOP HOUSE written on front. I also took note that although it was a mixed staff, most were black and brown which I appreciated as well. I got to speak with Jeff who let us know he was happy to be apart of "This Family", those were his exact words. He said he had been there from the previous month watching the set up as it all came together for Opening Day. Jeff was genuine and made me more excited to be there.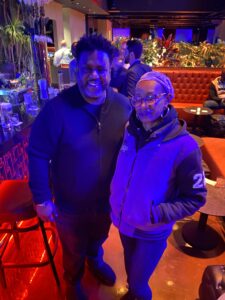 When we were seated we scanned the QR Code to look over the menu. There are so many things to choose from. Be careful because with all of the selections you will want to try everything at once. As a heads up, just plan on making many visits. (Mark My Words, YOU WILL BE BACK). We started with drinks first, of course. While we continued to look over the menu, I spotted the owner, who I follow on Instagram and went up to him to congratulate him and I asked for a picture. He was very humbled and I love when the owner of any place I dine in at, walks around and checks in with their guest to make sure everything is Okay. He DID THAT! Thank you, "Don Pooh". (@DonPoohMusic)
I enjoyed conversating and catching up with my son and his friend. It was a whole vibe as we sat and drank and enjoyed Alicia Keys voice coming from the speakers as we joined her in singing, "Un-Thinkable", but when, Troop, "All I do is Think of You", came on, I was in my old school glory. My son watched me with slight embarrassment as I continued to shout, THIS MY JAMMM and WHATCHU KNOW ABOUT THIS?! YALL DONT KNOW ABOUT THIIIIS! (Hahhaa).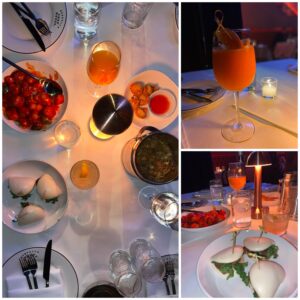 I don't like ordering appetizers first then my meal. I'm greedy and impatient when it comes to food so we ordered everything at once. When the waiter returned, we decided to try a "side for 2" and went with the Crab Fried rice. We also shared the Short rib buns, Crispy chicken wonton, Sweet n Sour chicken. *I even ordered some seafood Pac-Man dumplings to go so I could take it to work. And we couldn't leave without at least trying dessert so we shared a slice of cheesecake & ice-cream. I've decided that each time I return, I will try something new. Brooklyn Chop House is just like New York City, You cannot see and try it all in one visit.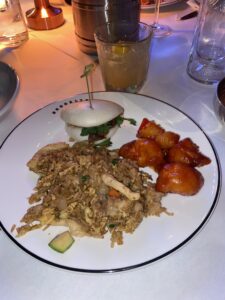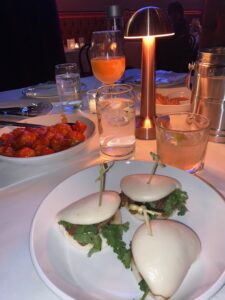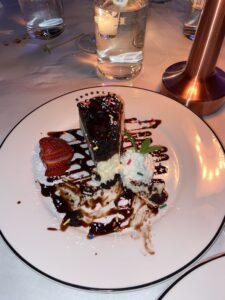 **Just an FYI: If you want to order DUCK, which I recommend you try at least once, you should order it as soon as you are seated because it takes a while to prepare. It's made to order. I have had Duck before but at the BCH, you will NEVER taste duck as good. That's a Fact!**
So far since opening, there's been a few star studded events and parties like the OFFICIAL-OFFICIAL GRAND OPENING CELEBRATION where, NYC Mayor, Eric Adams cut the ribbon to Stamp this "monumental occasion". Celebrities like, Mary J. Blige, Fat Joe, D-Nice, Angie Martinez, and many other Legends in HIP HOP were all in attendance.
BROOKLYN CHOP HOUSE, Time Square has a rooftop coming so be sure to check that out. They are also listed as a restaurants NYers would eat at for the rest of their lives according to SecretNYC. Check it out here-> 35 Restaurants NYers say they would eat at for the rest of their lives
As a bonus, BCH also has a Dumpling Shop (@BrooklynDumplingShop) located at, 131 1st Ave, NYC 10003. I have not checked it out yet but its on my list of places to visit during SUMMER 2022. Stay tuned. I'll be sure to tell yall all about it on my podcast, WHATs THE WORD PODCAST
All and All, it was a great night with amazing company. BCH is my top recommended spot to check out whenever you are in NYC. If you are an Official NYer, its a MUST! Shoutout and Congrats to my son, who will be graduating from Brooklyn College, May 31st 2022. This night was great because the last few years of college and Covid has been crazy for him. I was happy to treat Tonyio and catch up on his life. I thank BROOKLYN CHOP HOUSE for providing a nice space for our Mommy/Son time.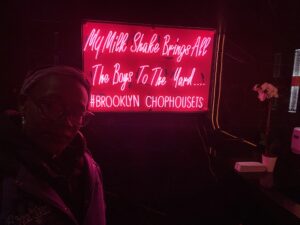 I'd love to hear about your experience if you have been to BCH or if and when you plan on visiting so leave comments below and Tell a Friend to Tell a Friend that BROOKLYN CHOPHOUSE IS WHERE ITS AT! "Meet Me There, Thank Me Later", I always say. Be sure to stop by the bathroom and take a photo. It's now my tradition when I go. I agree that my Milkshake brings all the boys to the yard but BETS TO B'LIEVE, WE SPREAD LOVE IN BROOKLYN (and the other 4 boros) and that's why I say,
SPREAD LOVE ITS THE BKLYN TYE WAY!