1st Annual Uptown Culture Film Festival…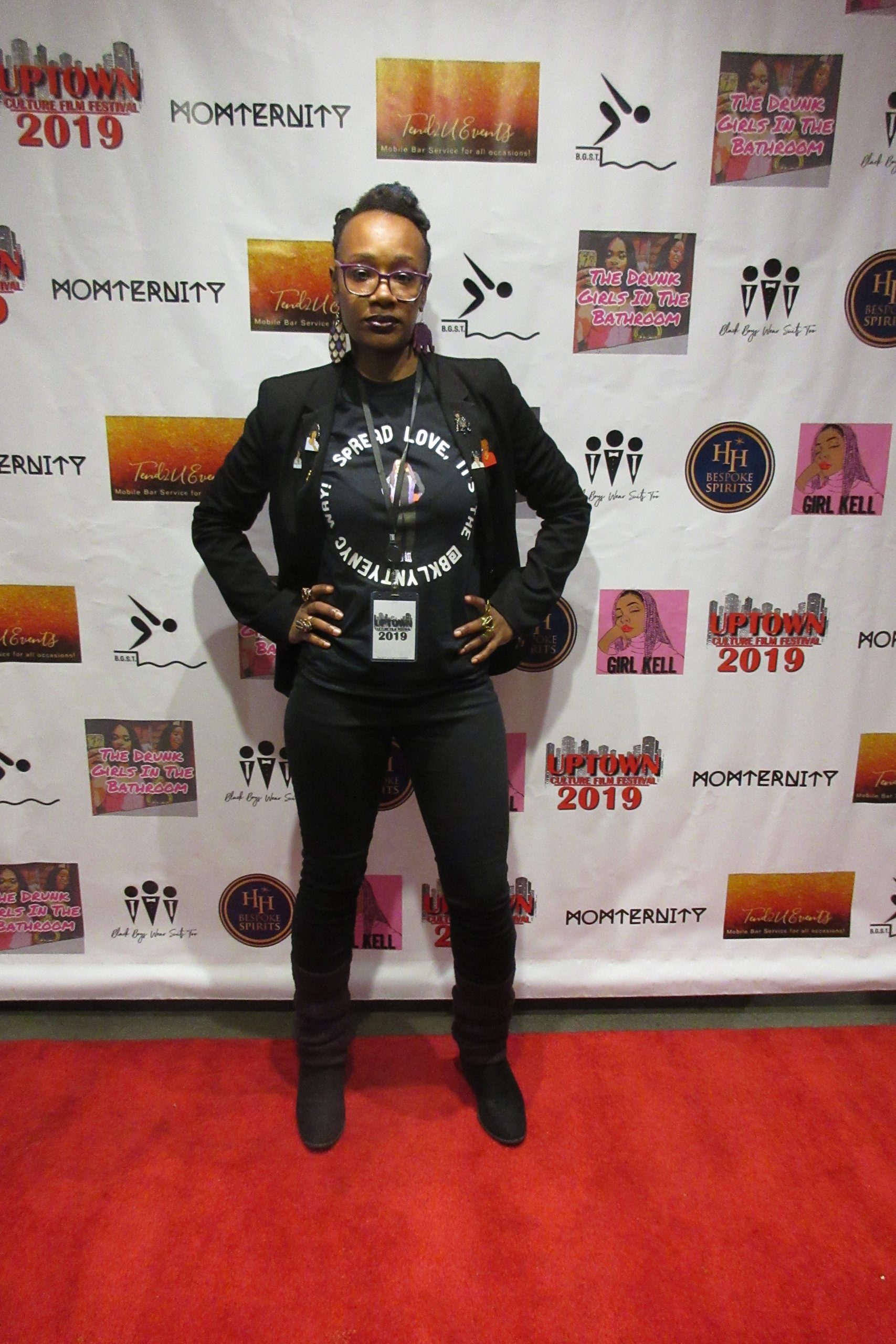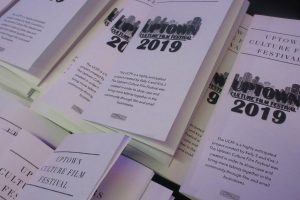 Thursday, April, 11th 2019, I got to experience BLACK GIRL MAGIC, in a FILMATICAL Way. And Yes I just freelanced that word, lol. Although I'm not a movie-going person, I'm always down for a great film. And when its sprinkled heavy with BLACK EXCELLENCE, I'm always going to support it! I have such amazing readers of my blog and followers on social media, so I am frequently tagged in events who are looking for bloggers and media people. I am always looking for new content to share and bring to you, so after being tagged in a post done by UPTOWN CULTURE FILM FESTIVAL I sent an email and was pleased to get a reply shortly thereafter inviting me to join.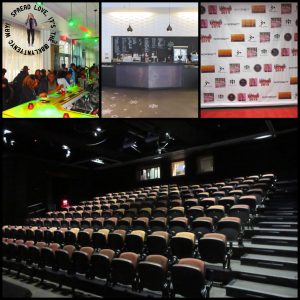 The day arrived and I couldn't wait to head to MIST THEATER (46 West 116th Street, New York, NY https://mistharlem.com/) in Harlem. I spent the morning preparing and doing more research on the film makers and deciding what questions I would ask. The weather was fair and the travel was the usual when riding NYC Transit/MTA Subways. I got to the venue about 4:30p. The Film Festival would run from 5p-11p. The vendors were still setting up so I took time to look around.
What a nice spot this was. MIST THEATER is like an ALL-IN-ONE. It had a Studio/Theater, Cafe, Terrace, and a Bar! I'd definitely consider doing an event there in the future and going there to grab a meal and a drink (or 5, haha). O! And they have a Pool Table for anyone willing to get their butt beat by me!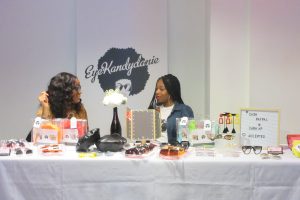 @EYEKANDYDANIE (https://www.eyekandydanie.com/) was a vendor who spoke with me and told me to let you all know, she's online and on IG. She has Sun/Fashion Glasses, and Accessories. Bags, Hats, Earrings, Rings… & More, so Check her out!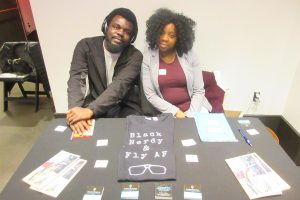 @THEYONKERSWRITINGGROUP was a group I found very interesting. They meet up every Sunday at YONKERS RIVERFRONT LIBRARY (Yonkers, NY) from 1p-4p. This library is very convenient to get to because the MetroNorth train station is right there for those who come from one of the 5 boros by public transportation. They invite ALL Writers to come and join them. This group is a space for writers to come together to write Poetry, Screenwriting, Fictions, Play writing, Storytelling, etc. while allowing support from fellow writers.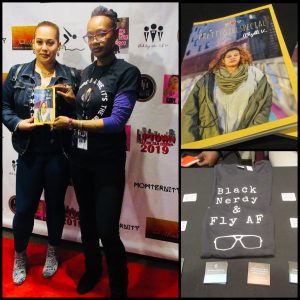 I also got to meet one of the Co-Founders of THE YONKERS WRITING GROUP, Philli V. She's a wonderful Spoken Word Artist, Poet, Community Activist, Teacher, Author, the list goes on and on including being a mom. She has a great book out called, "Pretty Girl Special" which is a collection of poems taking us through her ups and downs of life. Follow her on Instagram (@PrettyGirlSpecial_) and Check her website out to learn more about what she's doing for inspired writers. Use this link to also purchase a copy of her book. https://prettygirlspecial.com/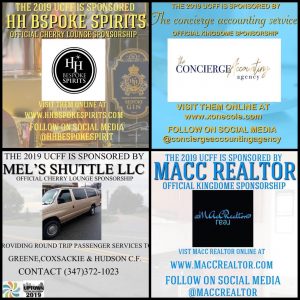 Along with the vendors, the UPTOWN CULTURE FILM FESTIVAL also had great sponsors, including one of my NEW Favorite BLACK OWNED BRANDS in Harlem, Harlem Haberdashery Spirit brands. Check them out on IG: @Haberdasherynyc ( https://www.harlemhaberdashery.com/ ) They offer so many things so I will blog about them in the future. Stay Tuned.
Mel's Shuttle LLC (347-372-1023). Contact them for all of your transportation needs.
MACC Realtor also sponsored this wonder Film Festival. Contact them if you are looking to buy, rent, lease a new home ( https://maccrealtor.com/ )
Concierge Accounting Agency was another sponsor (@ConciergeAccountingAgency)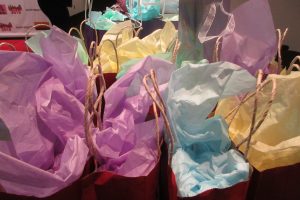 There were 'Gift Bag' Sponsors as well who provided items for the bags that were Raffled off throughout this Film Festival. ShoutOuts to @FelonMagazine, @Keaidy @Zamboarama @GlobalCurrency and @Royal_Vision, just to name a few.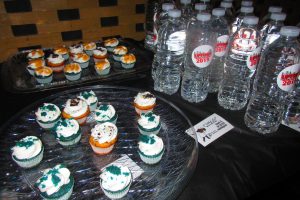 CATHY LU's (@_CathyLus_) provided the sweetest treats and I don't normally have a sweet tooth. The cupcakes were soooo D'Lish! Contact them at: CathyLusFood@gmail.com for all orders and inquires.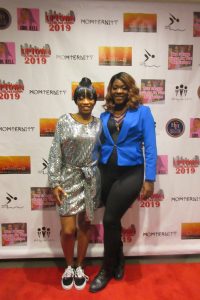 At Last, I had been formally introduced to the Curators, Kelly S & Kira J. These 2 Brown girl from Harlem wanted to do this event, "to help encourage and further develop their local Harlem talents and skilled individuals. This Uptown Culture Film Festival was curated exclusively for Harlem residence, natives, pioneers and community for showcasing new and innovative films while fostering the next generation of film makers."
One of the Co-Creators of the UPTOWN CULTURE FILM FESTIVAL, Kira J (@iamKiraJ), who looked lovely as she rocked a NIPSEY HU$$LE "BLUE" blazer, in honor of a brilliant West Coast Rapper and Entrepreneur whose life was taken on March, 31st 2019. She is a Poet, Author, Film Maker and more. Although she currently has a film out called, BREAKING POINT the movie, Kira decided not to show her film so she could allow other film makers to shine which I thought was thoughtful. If you have time, follow her on Youtube and check her film out: https://youtu.be/_UP8BqcyAQA
Kelly S (@GirlKell), another Co-Creator of the Film Festival is also a Film Maker who has a lot of great things she is involved in. She has a Talk Radio show called "Ratchet by Nature" (@RatchetByNature) so please check her out.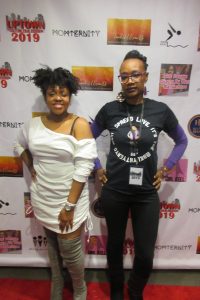 The first film we watched was called, "HOMI3S" – The "E" purposely being a "3". HOMI3S was written by Seymone Kelly (@YesMoneWrites). She is a Poet, Author, Screenwriter and Host on @StudentUnionRadio. What I loved about this film was how True-To-Life it was. It takes us to a house party scene and the "3" main characters are connected. Hence the reason the "E" is a "3" in the title, Get It! Seymone says, "in the age that we are in with social media, everybody knows everybody, so you can walk into any place and anywhere and just see somebody that you know or somebody that the person you are talking to has hooked up with."
This was Seymone's 1st time writing a screen play for a short but she has 4 published books out: 3 urban fictions (Amazon) and 1 childrens' book (Shopify). She has promised to make this film into a play by Fall 2019 where each character will have their own story line. What I adored most about watching this film was being in the audience with actors who were apart of it. Some of them sat behind me and I could hear how excited they were to see themselves on a big screen. I recommend everyone watch it. You too will anticipate a play like me.
Seymone has HOMI3S available on Vimeo so here's the link for you to enjoy! https://vimeo.com/275172978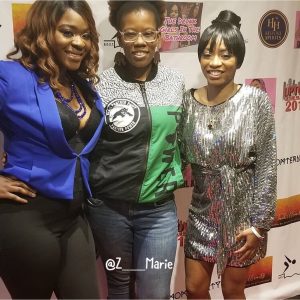 The 2nd film became a learning lesson called, "ANXIETY." ANXIETY, by definition, is a feeling of worry, nervousness, or unease, typically about an imminent event or something with an uncertain outcome. Throughout our lives, we all undergo some form of Anxiety.
The film maker, Zara Marie (@Z___Marie), explained to us her experiences with having Anxiety. What hit home is, I too, suffer from Anxiety. According to ADAA.Org, "African-Americans are 20% more likely to experience mental health problems than the general population." There are various types of Anxiety Disorders. A lot of times people confuse symptoms with OCD and PTSD. I thought it was very brave for Zara to speak on Anxiety. There are ways to overcome Anxiety once you know what you are going through is that. You can speak and share your feelings with someone like a therapist. You can keep a journal. There are breathing techniques to help you through it, etc…
Zara explained different situations that some of us in the audience were able to relate to. The best advice she said she could give for those of us who suffer from it was to, "go through it, hear it out, talk it out and then DEAD IT!" I really enjoyed this piece a lot. If you or someone you know shows signs of Anxiety, please know there is help out there to help you live through it.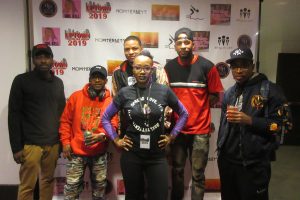 The 3rd film actually had scenes that were filmed in my (current) neighborhood in Queens, NY. JEALOUSY & ENVY is the title. Music in the soundtrack was also authorized and released by 50 cent. This was "A short film PSA to Reduce Gun Violence." Written by @twinindaclub Executive Produced by @skyviewslim72 Shot & Directed by @dopethedirector *Jahaun Atkins & Jerome Rhames* This film will have you ask yourself, 'How Loyal are your so-called, RIDE OR DIE'. And, 'Do you know who ya'real friends are?' And, 'Is another life worth yours?'
JEALOUSY & ENVY's message was – making the best decision when you're put in a situation that can mean Life or Death! This film sucks you in if you've ever had someone you've trusted do you dirty. The last person you expect to turn on you for greed is your best friend and/or family members. If this happens, what do you do? Who do you turn to? Do you react or do you weigh your options…? I wont spoil the ending but stay tuned and follow these guys. Film COMING SOON!
I'd like to give a shoutout to Prince (@DennisPrinceMapp) who this film was based on. The first part was what really happened to Prince and the ending half was what Prince said he Wished he would've done. Prince spent time in prison for making a decision that cost him 18 years behind bars. He told us he did EVERY SECOND of those years. He had been set up by a 'Friend' and was shot and robbed for his chain which caused him to go back and kill the guy. He utilized his time while he was locked up. He sees life differently. Prince wants to help people grow and make better choices. He says, "Education is very important." He added, "Start your day off right by saying GOODMORNING!" Which, I Totally Agree with and do everyday. Prince is now doing major things in his community and I recommend you Follow and Support these things.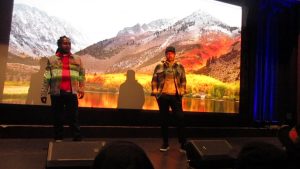 Next up was a documentary by film makers, @UsTv, Tru2Films, GDGFilms & D.Eyes titled, WELCOME TO ZOMBIELAND. This document took us to the streets of East Harlem, NYC where there is a serious epidemic of K-2 aka Spice or synthetic Marijuana.  K-2 is basically harmful chemicals sprayed on dried plant leaves and you smoke it like a joint. K-2 is sold at corner store bodegas in NYC. Not most but you can still find them in various neighborhoods. It's something that can give you a 'Natural' high with effects of smoking bud (real weed) but legal so you can pass drug test and more affordable for the buzz you get.
I am in East Harlem frequently and see the effects often along 125th/Lexington ave. It's a shame. Can you imagine living in a area where druggies are bugging out, pissing on themselves, spaced out of their heads… and your kids have no other choice but to see it everyday as they play outside or walk to and from school. This document was self explanatory so I will just post the link to it here: https://youtu.be/SyYvTg8aDIo
Please follow @USTV (UNITY&STRENGTH Television) to stay informed with all of the great things he's doing for the youth. Please take time to sign this petition and share it with others. UsTv states, "K-2 Spice is Chemical Warefare and our kids second hand smoke this stuff everyday all day. They purposely surrounded our neighborhood schools and playgrounds with this activity. There is nothing to figure out, nothing to think about this is a direct attack on our youth! I urge everybody to sign that petition. Power is in the numbers and we gotta make noise." => https://petitions.moveon.org/sign/community-leaders-save
SHOWTIME, was Written, Directed and Produced by Harlem Native, Shawn Antoine II (@ShawnAntoineii), and executive produced by Nate Parker. This story is so true to Harlem Culture when it comes to dancing and opportunity. Everyone knows I ride NYC Transit daily so I see the "Showtime" dancers on every route. These are dancers who flip and do tricks on the moving train carts for 'Donations' to help put money into their pockets but for some, it also gives them a chance to be discovered. In New York City, it's very easy to be spotted by the right person to further your dreams simply by doing what you love.
In this short film, it tells the story of friendship and what you would sacrifice to make sure your 'Brother' was safe. When doing something you love allows a chance of a life time opportunity, would you go for it or would you miss out to protect the one you love? SHOWTIME was well put together by Shawn Antoine II and made me think about the lives of the dancers I see each day. Shawn told us he did SHOWTIME because he has friends who dance on the subway and because it was a story that wasn't told. Be sure to follow him on social media to learn the things he has coming up.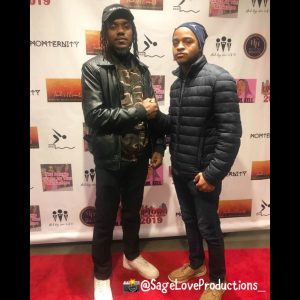 A CHILD AGAIN was the next to last film and it threw you for a loop if you weren't paying attention. It was amazingly done by Sage Love (@SageLov3 / @SageLoveProductions_), inspired by real life situations lived by the writers grandfather who is living with Dementia.
*DEMENTIA: a chronic or persistent disorder of the mental processes caused by brain disease or injury and marked by memory disorders, personality changes, and impaired reasoning.
I learned a lot by watching this short film. A CHILD AGAIN gives you a better understanding of what it's like for someone living with Dementia. We experienced the life of an adult but through a child's mind full of memories. When we discussed it at the end the entire audience mentioned how thrown off we were. The Plot Twist was veeery good. Follow @SageLov3 on social media to inquire how you can see this short film.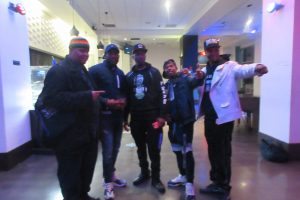 The final film gave us a story about cheating but from a totally different perspective than what we are use to seeing. It's so common to see a movie or series about a man cheating or a woman cheating but what happens when two people are cheating and a situation arises but the situation cant be confronted because the truth will come out… Whoa! let me tell you, I was glued to the screen 'til the very end. DONT TRUST LOVE, was Written by Raheem Norris and Directed by Gregory Jenkins (@_JBNFilms https://jenkinsbrothersnation.com/ ), I wish it was longer because it was interesting from beginning to end. The message was also serious when discussing how easy and serious it can be when having unprotected sex while sleeping with multiple people. It's a must that you KNOW YOUR STATUS when it comes to HIV and AIDS.
I enjoyed all of the films selected to be a part of this 1st Annual Uptown Culture Film Festival. If you missed it than you missed an amazing experience but again, be sure to follow these dope film makers in order to stay tuned with everything they have going on.
*The following day, (4/12/19), UCFF held a Film Awards show and the winners were as follows: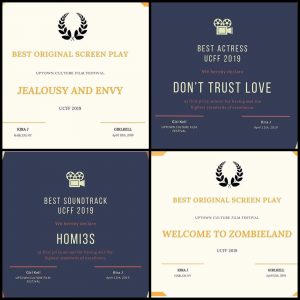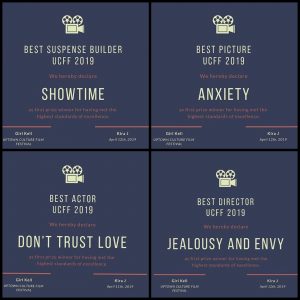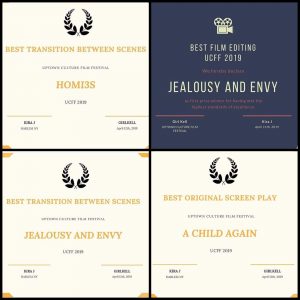 Special shoutout to my 12yr old daughter, Heavan, who was up that day at 5a.m. Tackled a full day of 7th grade madness and was still perked up to assist me with everything I needed as well as assisting the film festival. She knows is always best to,
SPREAD LOVE ITS THE BKLYN TYE WAY