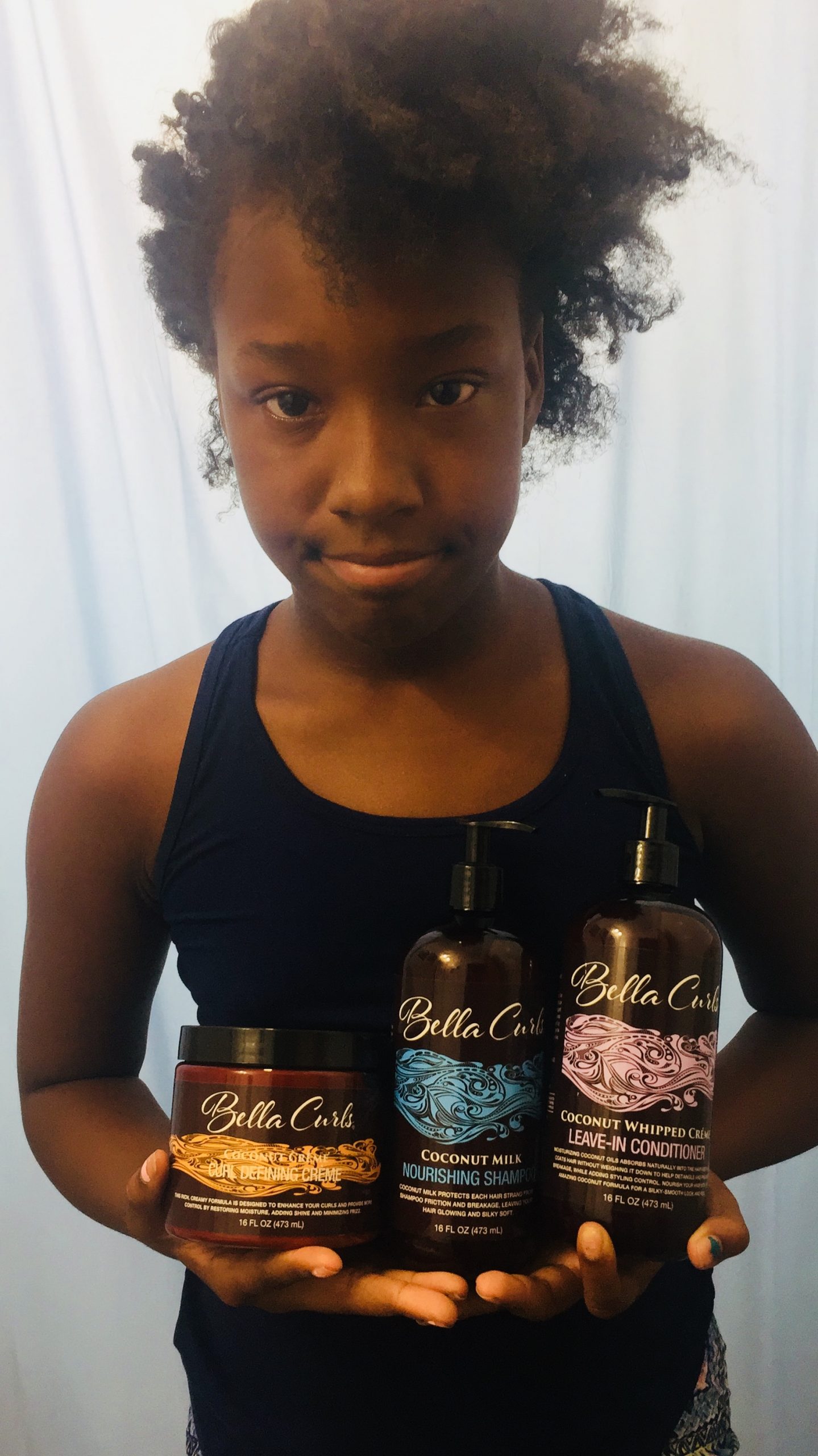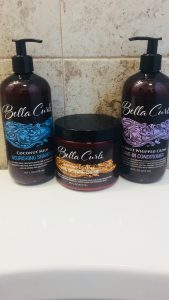 I have never been a fan of the 'DOING HAIR' process and I have 3 daughters with long thick Curly hair. This is the reason why I taught them all how to braid by the time they were 5yrs old. Yup! I had a mannequin head from the Beauty Supply Store and I would attach and lock it on to the corner of a table and show them. They were fast learners so it didn't take long although my oldest usually ended up doing the younger 2.
*Sidebar: There's a 5 yr gap between my 1st and 2nd and 13 years between my 1st and last. Needless to say, I enjoyed many years of not having to do their hair*
I wear signature Purple braids most of the year so I don't get to use too many hair products and this last year has been rough regarding Hair Care. My oldest daughter moved to Virginia and my 2nd born daughter went off to College so I was left doing my 11 year olds hair and the Struggle was Real! Heavan knows how to do 2 cornrolls and do ponytails and stuff but taking care of her Type 4B/C (Thick-puffy-Curly) hair was very difficult on her own. We needed something that required minimum steps and/or products and in the process, didn't break my pockets. I have tried numerous child & adult hair care products on her mane but either the products didn't work. Some were sticky. Others left her hair dry and this made combing through it a fight. I was ready to give up – AKA CUT IT ALL OFF!!! UGH!
One day during a random "Mommy" convo on the Subway (NYC – MTA), I was put on to a Hair Care Company for curls. BELLA CURLS. This product is actually for those who want to care for their lovely Curls but because my daughter has Thick, Curly hair I need something that will help me braid it without tugging through it. This lady Assured Me it would work. I was SOLD when she told me I could purchase it at FAMILY DOLLAR so I knew it was affordable. I wasted no time going to one of my local stores (144-01 Liberty Ave, Queens, NY) and was glad when it was priced reasonably at $6.00 for the products I selected but rang up $4.50 each when I went to Check-Out.
I got home and was looking forward to doing Heavan's hair especially because she had just been at the beach. I took the braids out that were in her hair and we went into the bathroom to start the Process.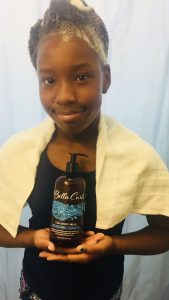 We started with the 16FL oz Coconut Milk Nourishing Shampoo. This has ZERO Sulfates, Sodium Chloride Dyes, Harsh Salts, Parabens or Gluten. It also has NOT been Tested on Animals (None of their products). I used 2-Full Pumps and began to lather it in her hair. I could immediately feel the change in the texture as I thoroughly massaged it in. I did a rinse and repeated the same steps again. I could tell the Coconut Oil was smoothing her hair out. This is a feeling I usually get on my hands when conditioner is used. I was very pleased. On the bottle it spoke truth when it said, "Leaving your hair Glowing and Silky Soft."
Heavan was hype when she was able to run her fingers through and didn't hear snapping or have curls tangles between them. It felt light and I was already convinced it would be manageable even for her. We also loved the light smell too.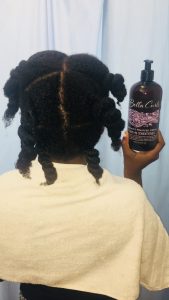 Next, I parted her hair into 6 big twist and only had to use 1-pump for each one. This 16FL oz Coconut Whipped Creme LEAVE-IN Conditioner which was Sulfate, Parabens, Dyes, Gluten, Phthalates & Propylene Glycol FREE, worked wonders. First I worked it in with my hands then used the wide-tooth comb to comb through it to make sure there weren't any kinks or knots. I didn't know how to act! This was a product we had been looking for for some time now. I found them on IG (@Bella_Curls_Hair) and tagged them in some of my IG Stories during the process. I let the twist sit for a bit so her hair could air dry before I began to braid it up. This was the first time Ever, I didn't mind doing hair. Up until this point I had only been :35mins into the process. Total shock. This was because there was No- Slouching, No- OW MOMMYs, No- hands on her head to stop me from combing,,, None of that! Moms out there with Tender-Headed kids know what I'm talking about.
Sidebar: I mentioned how many pumps because its always helpful to give an idea of how many pumps each bottle will give you. I want to see how long it will last me before its time to purchase more.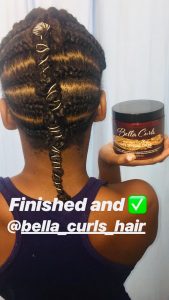 After that was done, I used some Coconut Creme Curl Defining Creme because it stated it would, "provide more control by restoring moisture, adding shine and minimizing Frizz" which was what I needed to tackle this last task. And because this Summer18 heat has been Disrespectful, I wanted to do my best to NOT have a need to use grease on her scalp so it wouldn't be dry. I braided it all up. *Que Up the Choir* OOOO HAPPY DAYYYYY! (in my Sister Act voice). We were both happy with the results! Sometimes the best items to use on Curly hair when you want to braid it are products made for those with Curly hair. *shrug* Makes sense to me. Best of All, this product is proof you don't have to spend a grip on hair care products to guarantee they will work. A 2-hour process from start to finish, using BELLA CURLS cut down a full :45mins making the time spent 1hr and :15mins. No Sweat or Pops in between parting and braiding. YES!
I have researched more about this brand and have seen on their IG & Facebook pages, as well as their website http://bellacurlshaircare.com/ they can also be purchased at Dollar General & Target. They also have:
Coconut Milk Nourishing Conditioner                                      
Coconut Creme C0Wash
Jamaican Black Castor Oil
Coconut Water Replenishing Treatment Mist
100% Coconut Oil
Coconut Oil Deep Conditioning Masque 
I have read Testimonies and watched a few YouTube Vloggers rave about BELLA CURLS. These came from women of all Nationalities/Race, different age groups and Many various Hair Types Too. This Brand has been a Best Kept Secret because I thought I had tried EVERY damn Hair Care Company there was. I was badly mistaken. I couldn't wait to share this with my readers. This is definitely #BklynTyeNYCApproved. I cannot wait to try their other products on my hair.
*Stay Tuned on my IG (@BklynTyeNYC) because I will post my hair results there.*
Check them Out. I hope you get to try their products and if/when you do, let me know by leaving comments below. I'm interesting in knowing your results. Tag them in your post and be sure to tell them I sent you, and as Always,
SPREAD LOVE ITS THE BKLYN TYE WAY!