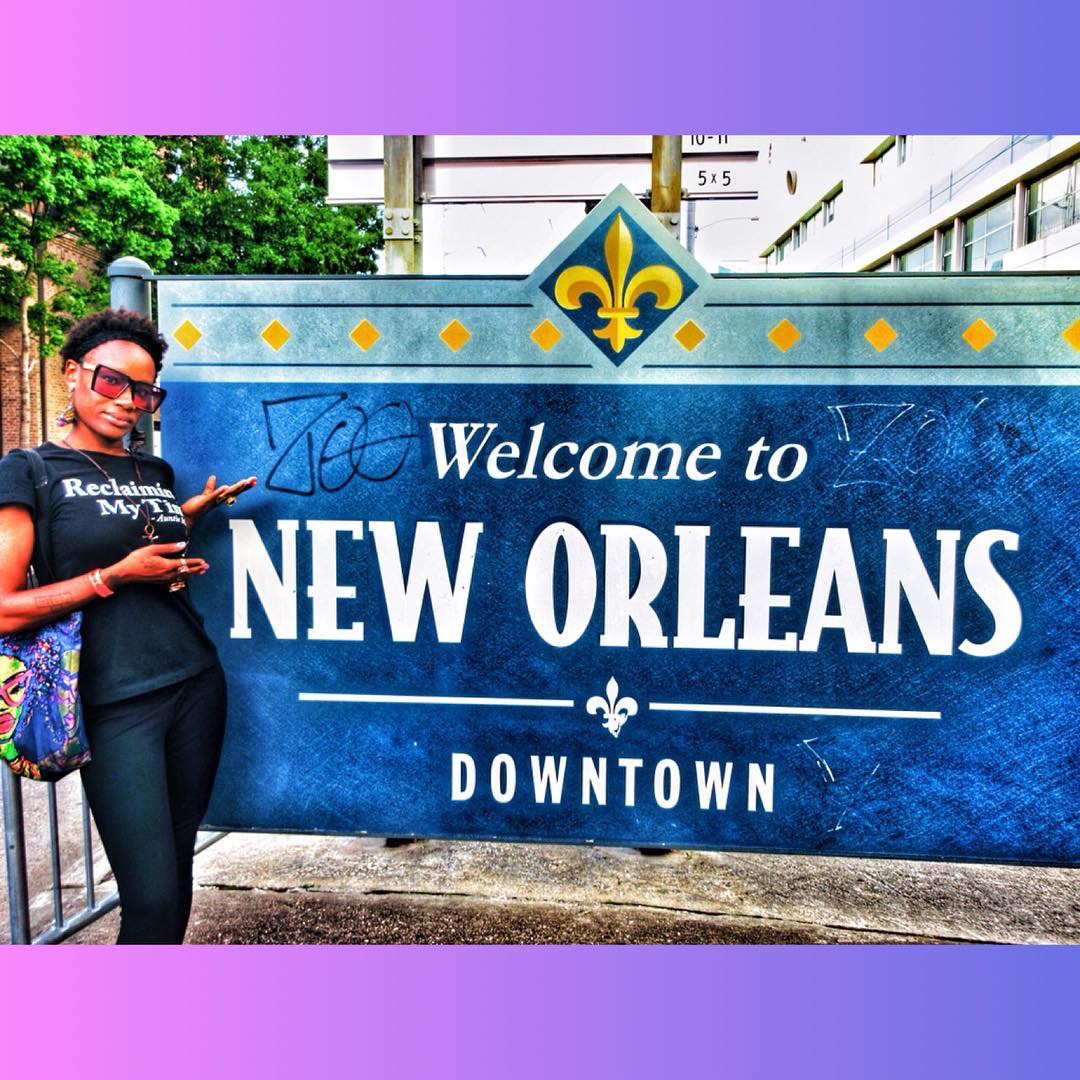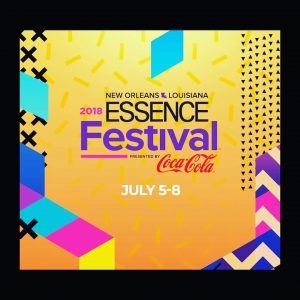 While in NOLA for ESSENCE FESTIVAL 2018 (July 5Th-8Th) I was able to catch a great discussion moderated by the beautiful, #CousinInMyHead, Angela Rye. The dialogue was called "Sister Love: Purpose, Passion & Power." This was inspired by a new collaboration line of Queen Hoop earrings,  designed by Mary J.Blige and Simone Smith (The Legend, LL Cool J's wife). Angela Rye sat down with Mary J. Blige to discuss the new line (www.simoneismith.com/sisterlove) which she said was designed because she loves hoop earrings but could never find thick affordable big sized ones. Angela asked MJB if it was hard being vulnerable and still be strong while having a public platform. Mary's response was so real. Mary J said, she was who she was. She cant hide who she was because people want to be nosy. People can say what they want. Her life is real. All she can do is better herself so she can be a better example to others.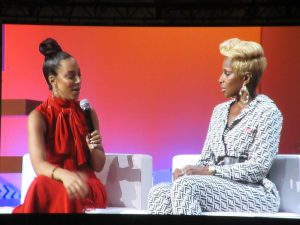 Angela did a 'Rapid Fire' where she asked Mary J Blige questions like what her favorite MJB song was. Her favorite singer. Designer… Understandably she couldn't answer them with just one answer because there were so many. We completely Understood! Angela asked who inspired her the most and like most strong black women, Mary said it was her mother. The Queen of Hip Hop Soul said her mom inspires her because she's Sharp, Strong, Fun and makes her Laugh. I could totally relate.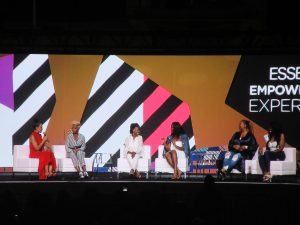 Next it was time to bring out the rest of the panel. I was excited when Bronx Bombshell, Remy Ma, The Legendary, Female MC, Singer, Actress, Covergirl. Ms Dana Owens, aka Queen Latifah, stepped out. Also on the panel was Alencia Johnson from Planned Parenthood, and my #AuntieInMyHead, The one and Only, Congress Woman, Queen Maxine, (Mrs. Maxine Waters) also came out.
Angela Rye asked Remy Ma to share her exciting news we had just recently heard over social media a few days prior. Remy then confirmed her and her husband, the Brooklyn Rapper, Papoose, who she's been with for 13yrs and married 10 of those years had recently renewed their vows and are expecting their 1st child together in December 2018. We cheered for her. I was happy because I have been following her career for many years and seen her growth over the years before she went to prison and since shes been home. Her grind is non-stop. This is a blessing because they have been trying for some time. Stay tuned because she will be dropping some new 'ish by the end of Summer 18.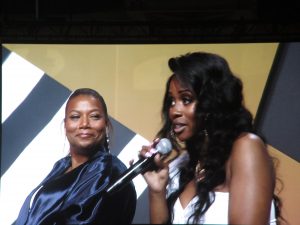 Queen Latifah let us know about a Dope experience shes putting together with the help of sponsors (like HP and Smirnoff); an opportunity inspired by her mom who recently passed away, called "THE QUEEN COLLECTIVE." This will be for 2 – Future Female Film Makers. This is something for female directors to create their own project from A-Z. The QUEEN COLLECTIVE will support the film makers work from IDEA to FRUITION. That includes monetarily, distribution marketing etc.
Ms Dana Owens said its important because today we have a ton of movies and even commercials that dont really represent women because they're not done by Us (women). So a lot of times we may see something on screen or TV and be like "HUH?! We dont do that!" or "That wouldn't be our reaction"… and its because it doesn't have 'Our' touch.
Later on we were all brought to tears when Queen Latifah was asked Who Inspired her most. Ms Rita Owens! May she Rest in Paradise. Her Mom. It took some time for her to pull herself together but we gave her as much time as she needed. Her mom was the person who showed her what being a women was all about. She encouraged her and guided her through life. Queen Latifah also gave Mary J. Blige credit too. She said they go through ups and downs then hug it out.
Queen Latifah said Queen Maxine was someone she's inspired by as well. Maxine Waters was someone who tried to figure out what the Hip Hop Heads were doing and saw what was being said was powerful. Queen Latifah also mentioned how important Planned Parenthood is. Truth be told, All women have needed them at some point. She also said her father was the Feminist in the family. He was someone who was like, "Well if Boys can do it, Girls can too!" He allowed the women in her family to be whatever they were capable of.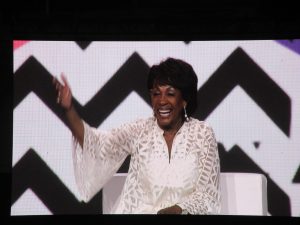 I purposely wore my "RECLAIMING MY TIME" Tee (by @PowerInBlackTees) when I knew Queen Maxine would be speaking. She told Angela Rye how happy she was and hopeful for the future due to women like her. We all agreed since Angela was like a Cousin in our heads. Maxine Waters complimented MJB as well and thanked her for taking us on her life's journey through her music. Mrs. Waters told us shes been watching Queen Latifah since she was wearing a Crown on her head. She mentioned a time when she organized something Years ago for women in California and Queen Latifah showed up to help out. Maxine said these ladies were all someone we should admire and we showed our agreement with applause. Maxine Waters said, "Black women are leading the way all over the country!"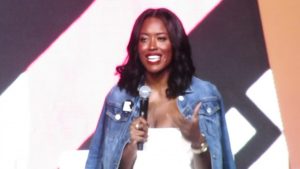 Alencia Johnson (https://www.plannedparenthood.org/) spoke on the importance of women taking care of ourselves. Whether its contraception, education and/or health care. She spoke on Black women dying at a higher rate than White women when it comes to childbirth. She informed us, Black women aren't dying at higher rates of Breast Cancer or getting it more often either, in fact its because we are being diagnosed at a later stage. Ms. Johnson said we have to get regular check ups and reminded us we have to do our part when it comes to taking care of  our bodies.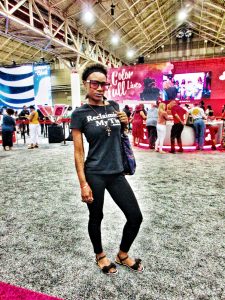 I was so glad to have had this experience. I needed to hear their words of motivation and encouragement. It was a very inspiring discussion. It was proof once again how Women of Color can come together to build and learn from each other. If I learned anything from these women it was to help one another. Its OK to compliment one another and uplift your fellow sister. All We Got Is Us! Be a Blessing to someone else. Share a Smile because it goes a long way, and as always,
SPREAD LOVE ITS THE BKLYN TYE WAY!