Long Live the KANE! 30yr Anniversary…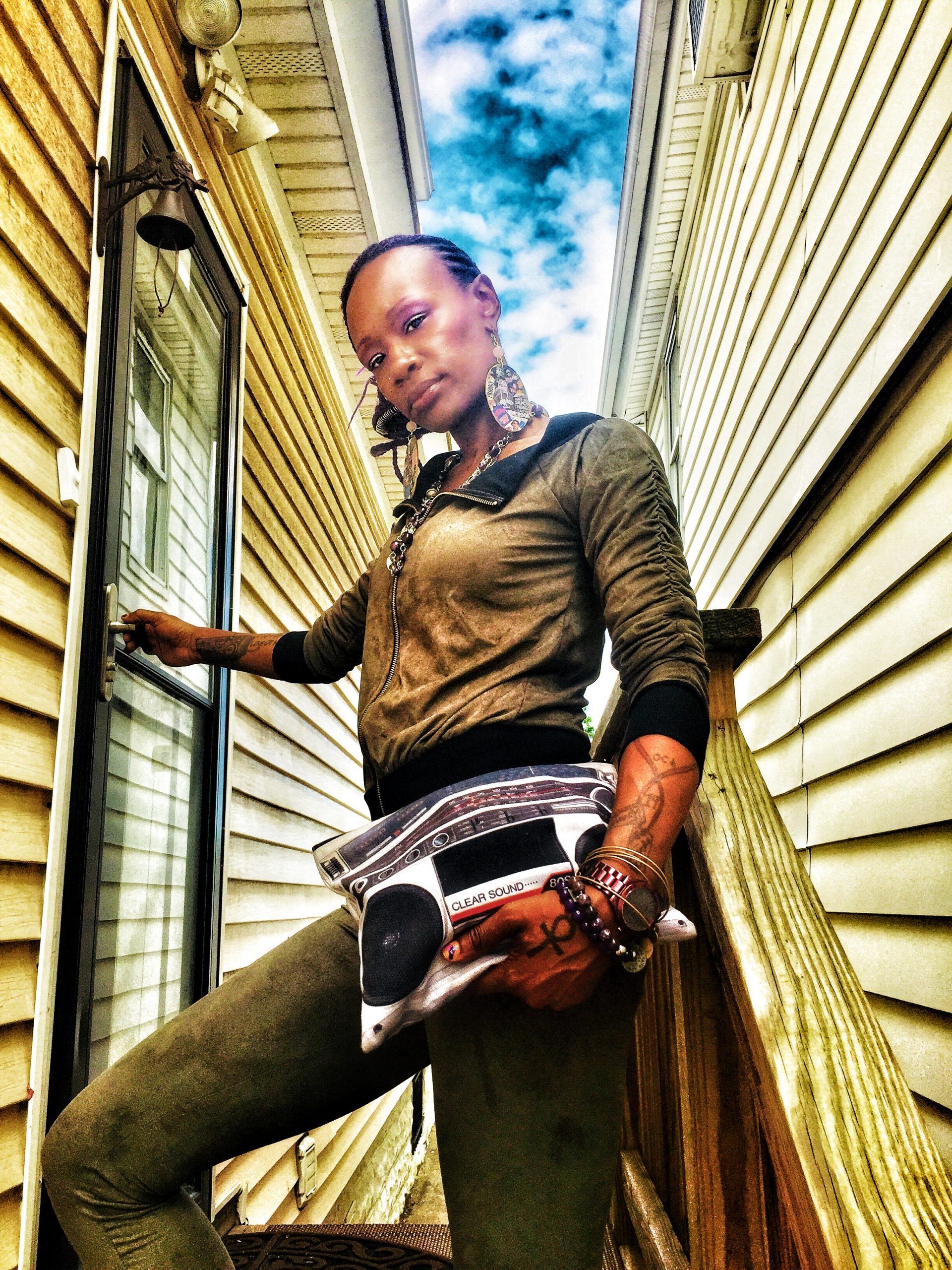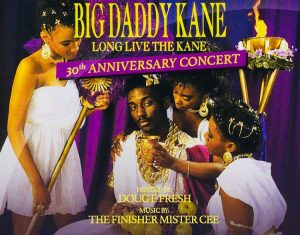 I have seen Big Daddy Kane perform a ton of times. Not to mention him and his brother, Shane are cool with my uncles (Grady & Phil) since they were younger but Any and Every chance I get to see BDK do his thing, I'm There! From NY to Va and everywhere in between. June is my Birthday Month so it was only right I add the LONG LIVE THE KANE: 30 YEAR ANNIVERSARY CONCERT which took place, June, 20th 2018 in Coney Island, Brooklyn at the Ford Amphitheater (3052 West 21st St) to my list of "Things to Do" for my Birthday. I was invited to sit in VIP by a friend who I had only known via Instagram. I figured, Why Not! And it would be great to finally meet him in real life because Dre is someone who has been supporting my goals for some time now.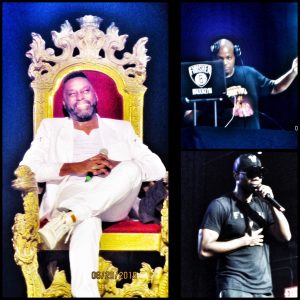 We linked up at 5:45p at the venue by the VIP doors. They began letting us in at 6p. While we waited to enter, we seen the Legendary DJ, the one and only, DJ Mister Cee aka The Finisher! We also seen a Juice Crew Legend, (DJ) Cool V. I was so excited I couldn't wait to get inside. When we made our way in, I seen a lot of Hip Hop Junkies. We showed up in HIPHOP Gear and was ready to set the roof on fire. (Well, Actually, the Tent, Ha). At this point we knew it would be Big Daddy Kane, the Human Beat Box, Doug E. Fresh as the host and the sound track would be provided by DJ Mister Cee. We had NO IDEA What was actually in store.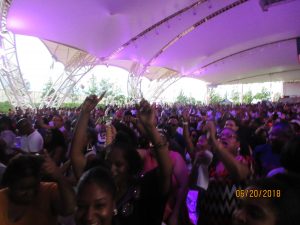 DJ Mister Cee warmed us up with some Old School dances like "The PeeWee Herman" and "The Wop". Then he had us singing "The Bridge is Over" by KRS-One. Next thing you know, Doug E. Fresh came out and introduced himself as if it was needed. We all gave him a loud round of applause. He kept the energy going by asking what boros were in the house and when he got to Brooklyn, You Know I was Hype! Then he wanted to know what Zodiac signs were the Sexiest and of course its CANCER! Ayyyeee! We thought he was about to start the show and bring Big Daddy Kane out when he said he was happy to be there to introduce his "Friend" which he made clear, he didn't use that title lightly. Instead, he surprised us 1st and brought Lil Vicious out.
After they performed "Freaks," Doug E. Fresh gave us a fresh ass Hip Hop medley as he reminded us he was the originator of the (remade) dance "The Dougie."
(ALL Videos can be found on my Youtube page *LINK BELOW*)
At last it was time for One of my Favorite Legends in Hip Hop, the one whose Flat Top Ruled in '89, BIG DADDY KANE to hit the stage. He didn't just come out looking Fly in All White! No! He stepped out with 2 beautiful women on each side as they dropped rose peddles at his feet! Now how's That for an Entrance! THAS'THAT BROOKLYN SHYT! He thanked them and then went into "The Wrath of Kane" and then "RAW" – The energy was on 1000 and he had only been on stage about a good 3 and a half minutes.
The Finisher stopped the music because BDK had a few words for us. He said, "For the simple fact that yall still got Love and Adoration for a brother after this many years, I would like to applaud yall." And then he started clapping FOR US. I thought that was Dope and definitely appreciated by us all. He admitted everything hes done was not done by himself. He Thanked Cold Crush Brothers own, GrandMaster Caz, Fly Ty Williams (Cold Chillin Records) who gave him his 1st deal, Super Producer, Marley Marl, and Guess What?! They were all in the building so they joined him on stage. Lastly, he gave thanx to a Legend who is no longer with us, the Founder of the Juice Crew, Mr. Magic. RIP
Next thing you know, he gave us another surprise by bringing Biz Markie out to perform. Big Daddy Kane said he wouldn't be BDK if Biz didn't believe in him. Biz Markie started off with his classic, "Just Rhymin'" as Kane joined in and then went into "Nobody beats the Biz" then the "Vapors" and of course he hit us with "Just a Friend." We were harmonizing and everything. The surprise treats didn't stop there. On comes to the stage, none other than, Roxanne Shante, Renee from Zhane and MC Lyte who all performed individually as well.
I was so glad I decided to come out the this show. Big Daddy Kane was giving us Life and it was Free 99. It was nice to see parents who had brought their kids out so they could see what Real Hip Hop was all about. This show was really for the old, the young and everyone in between. The songs didn't have to be censored. The ears of the underage did not have to be covered. I even had a dude in front of me the entire time on facetime with his girl who for whatever reason could not physically be there. Thats Love.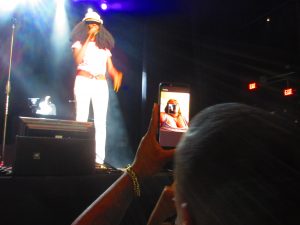 Big Daddy (K)ing (A)siatic (N)obody's (E)qual, who was sitting on his Throne (King Chair), got up and gave us a powerful "Young, Gifted And Black". Instead of going into another classic, he asked if Staten Island was in the house? "Any Queens?, Any Bronx?" When he asked about Long Island, there weren't many in the crowd but he said, "The hell with that, Long Island is in the HOUSE!",,, and steps on stage, PMD (but without E.). He gave us "It's my Thang". Parish Smith left and BDK comes back to announce Doug E Fresh back to perform. We were all on our feet singing, dancing and capturing the moment on our phones. He told the camera people to face the crowd so he can see which side was the Hypest. Doug E. Fresh also gave us a chance to witness his Beat Boxing skills.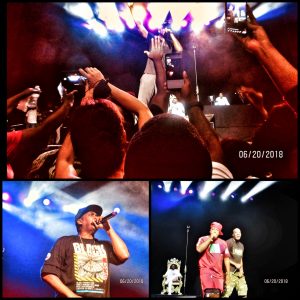 Kane came back and asked if Brooklyn was in the house. We yelled loud but he wasn't convinced so he asked DJ Mister Cee to ask the crowd. DJ Mister Cee had us chanting BROOOOOOK-LYNNNN BROOOOOOK-LYNNNN! I'm standing there already hip to what Kane is doing to us. These surprises were causing me to brace myself and be ready for whatever. But nothing could have prepared me for when M.O.P stepped out! Everyone who knows me in Real Life knows, ANTE UP! is a song that NoOne should stand next to me when on! I Promise You! I GO OFF! I had my cell in my left hand and my Purple Sidekick (Canon Elph 360HS Point-n-Shoot) camera in the right trying to record it all. Well, by the time they left the stage I was sweaty and exhausted and STILL ready for more.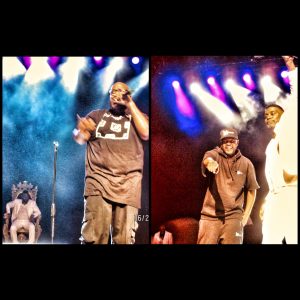 I learned fast to be careful what I ask for. Chubb Rock 'steps on the scene'wearing a Dope Tee with a Skelly Board on it… after performing he asked what parts of Brooklyn were there. With loud cheers in between each section: Eastern Parkway? Marlboro Projects, Red Hook, Bedstuy, Fort Greene,,, it was clear, Brooklyn was definitely in the building. As BDK stood with him, Chubb Rock spoke on a memory they shared, where Chubb Rock was scared to go out on stage at the Apollo but Kane gave him encouraging words in order to beat his fear. Chubb Rock said, "We are suppose to inspire each other like he inspired me." Chubb Rock told Kane he loved him and they gave each other a brotherly hug. It was a touching moment. To keep the Brooklyn energy up, Big Daddy Kane brought Milk Dee of AUDIO TWO out. He was decked out in Walker Wear clothing and we rapped along as he did his classic cut!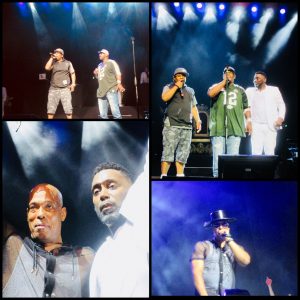 Up next, Big Daddy Kane took us back some more and brought to the stage, Divine Sounds. We harmonized "What People Do for Money" with them. BDK comes back on stage to say Brooklyn was put on the map early on but it wasn't by him, it wasn't Jay Z or Biggie. He said "Here's who put Brooklyn on the Map! Show ya' love one time for WHODINI yall." Well, once again, we lost it! The applause was so loud my ears started popping. He stepped on stage in his traditional style 'all around brim' hat and shades. Looking like he had been drinking from the fountain of youth. We sang, "FRIENDS! How many of us have them…" at the top of our lungs. He also did, "Freaks come out at Night."
So now I'm sweating, full body. In my HIP HOP Zone. Waiting to see who else was going to come out. In need of water and just happy to be in the presence of so many Hip Hop Heads. Big Daddy Kane came back on with "Set It Off" and right into "Warm It Up Kane" but this was the best part. Sooo, We All know there's a Classic routine Kane does for this song. He called Scrap Lover on stage and informed Scoob wasn't there but there was someone else who was good too.
They start, they get to the part where Kane is suppose to be lifted up then go into a split and bounce back up – They almost tried it, haha. But he said he's pushing 50 yrs old now (September.10th). So what he did was bring out these young Kats, TaTa and The Luxury Brothers (@TaTa_BBoy @Luxuury_Reem) who did the routine and some Fresh B-Boy style moves. He then brought someone to the stage who I am familiar with because I am a Lover of DJs. I love the craft. I love the way they can blend and scratch songs and just be creative with music in general. So when he brought young DJ Prince (@IAmDJPrince01) out, I became excited because I've been a fan of his for a few years. He's a DJ to watch. He's nice on wax. Real Vinyl. Big Daddy Kane let him show those unfamiliar with who he was, WHO HE WAS! DJ Prince, with his high flat top, jumped on the 1's and 2's as in turntables. He started mixing the verse from "Warm It Up Kane" that says "I take the Cake but you cant get a Crumb" as he was being fed a slice of cake!!! DOPENESS.
Marley Marl came back out, Master Ace, Craig G, all joined BDK as they did the classic SYMPHONY. It was great to see them all on stage together. When they finished, DJ Mister Cee came on the mic to tell Kane he had a Special Surprise and needed us all to look at the monitors which were on the left and right of the stage. We immediately started cheering when we seen Jay Z come on the screen. He Thanked Big Daddy Kane for inspiring artist like him and other rappers in the Hip Hop Culture. I was so Proud to be from BROOKLYN! It really IS where LEGENDS where made!
Finally it was time to close the show. When you make an entrance the way he did, its only right you end the show just as Fresh. Kane gives us, "Aint No Half Steppin'" again but as he gave us "try to step to me?' Must be on a mission," TaTa is back out and is putting on, a Slick, all white Federo type hat on BDK and draping him in a long white coat with black collar, James Brown style. As he gets to "you think I'm losing? Picture That!' Big Daddy Kane drops the mic. WE WENT INNNN ON THE APPLAUDS. Pure Greatness.
We slowly started coming out of our zone we had been in the last 4hrs. Before officially closing out the show, DJ Mister Cee brought on Brooklyn Borough President, Eric Adams (@BPEricAdams) who made the Free show possible. Big Daddy Kane came back out and brought his wife and son out as well.
SIDEBAR: On June, 24th 2018, Big Daddy Kane received the Key to the City and he was inducted into the #CelebrityPath at the Brooklyn Botanical Gardens.
It's a full week later and I am Still on the same Cloud 9 this night put me on. And Still not ready to come down. I had so much fun. I captured a ton of video which will be available via link below. Stay tuned for more Hip Hop moments I get to experience. Be sure to follow my blog IG @BklynTyeNYC for up coming events happening in NYC and the surrounding areas. And As Always,
SPREAD LOVE ITS THE BKLYN TYE WAY!
https://www.youtube.com/watch?v=M80gf5WjLx0&list=PL_N1Rs0a6n3fHt3qG29VAXd83hkuuoLVx