Yo! MTV RAPS 30 YEAR REUNION Recap…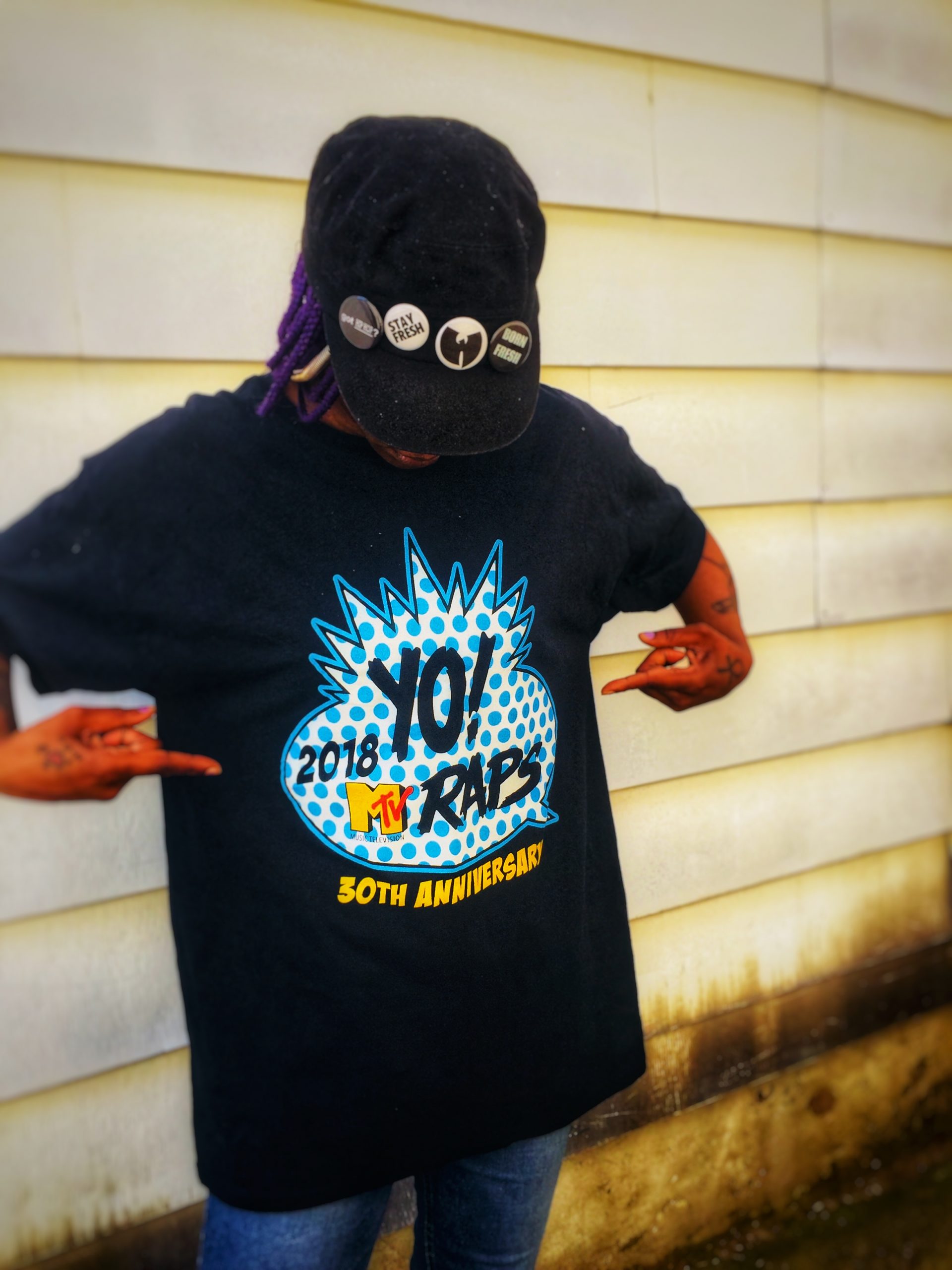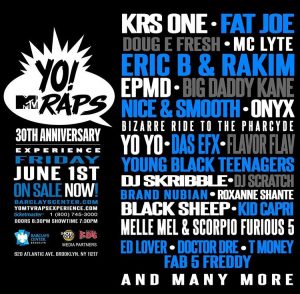 A few months ago while scrolling through IG, I was put on that Yo! MTV RAPS (@YoMTVRapsExperience) was bringing a 30 YEAR REUNION to my boro of Brooklyn at Barclays Center (Downtown, Bklyn). Of Course I had to be there! It was perfect timing too. Friday, June 1st, 2018 was the date as well as the date I start my Birthday Celebration every year. My Birthday is June 22nd and YES! I celebrate Thee Entire Month Of June! And because I'm Blessed to have Dope Ass Friends who Love Me and Know I'm a True Hip Hop Junkie, when I did a Repost of the info on Instagram, My Bestie, Tanya (@Tajula) commented "WE IN THERE!" She said it would be my Birthday Treat! I WAS SO HYPED! But Thats why we've been Best Friends for over 25yrs!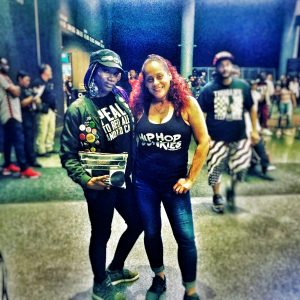 June, 1st finally arrived. Tanya and I kept in contact most of the day discussing how excited we were and finalizing our 'Look' for the evening. I arrived at her house in Bklyn at about 5pm. We did our usual rituals; indulged in music and other things (wink, wink) to set the tone for the Fresh Experience we were about to endure. The HIP HOP Anxiety I was on reached a million and one! We couldn't wait to get our 90's Era On. We headed to the B44 bus that got us to the train which would get us directly to Barclays Center (5-train to Atlantic Ave/Barclays Center). We arrived a little after 7pm. The Show was due to start at 7:30pm which gave us time to hit the bar and see who was in the building.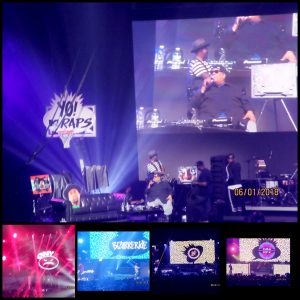 We made way to our seats through clouds of Weed smoke and passed by others dressed in 90's gear. ONYX was on stage screaming SLAM! DUTDUDUT! LET THA BOYZ BE BOYZ!… That will forever be a Classic HYPE SONG for Any occasion. Everyone was screaming along. With posters of a few of our fallen Legends in Hip Hop (like Jam Master Jay & Biggie) Ed Lover, Dr Dre, T Money & Fab5Freddy gave us an updated 'Basement-Hangout spot' vision like when Yo! MTV Raps was On Air. Then Ed Lover took us to the West Coast by bringing THE PHARCYDES out. They had us chanting one of my favorite cuts from them, "(She keeps on) Passin' Me By." We were brought back to NYC with a group that put Long Island on the map, YBT (Young Black Teenagers). They were followed by DAS EFX  who had us rapping along to, "They want EFX."
*New York Fact: Although Long Island connects to some of the cities, its not a part of the '5 Boros' which are: Brooklyn, Queens, The Bronx, Manhattan & Staten Island. Just consider L.I as the 'Y' in Vowels.*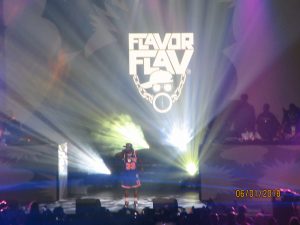 When they left the stage, they brought out FLAVOR FLAV & TERMINATOR X. After performing hits like, "Cant Do Nothin' for ya Man!" Flavor Flav thanked the fans by letting us know, "If it wasn't for ya'll, there would be no PUBLIC ENEMY!" He added, "If it wasn't for y'all, on TV, there would be no Flavor Flav." He went on to Thank MTV & Yo! MTV Raps and said it was their, (PUBLIC ENEMY's), launching path and mentioned Yo! MTV Raps was a path to many Legends, some of those who were going to bless the stage that night. So Flavor Flav said, he had to be there and give back. He also wanted to give the fans props and told us if it wasn't for Us, PUBLIC ENEMY would have never been inducted into the Rock & Roll Hall of Fame (2013). He apologized on Chuck D's behalf for not being there and had us show him Love by a round of Applause. Then, as if we were waiting for it, the Big Clock Wearer had us recite his famous, FLAAAAAAVOR – FLAAAAAV!  then went into "911 is a Joke!"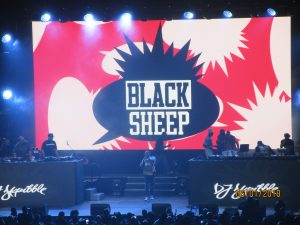 When BLACK SHEEP came on stage, I immediately thought about being 13 years old and sneaking out to this Teen Club in my old hood (in Sheepshead Bay, BK) called INTENSITY's, just to see them. They did "Flavor of the Month" and we all sang along… then we Harmonized when HURRY UP'ND GETTA SCOOP BEFORE ITS GONE came. And of course we went in for "The Choice is Yours," ENGINE ENGINE, NUMBA' 9 part as we Ranted, Pick It Up, PICK It Up, PICK IT UP!…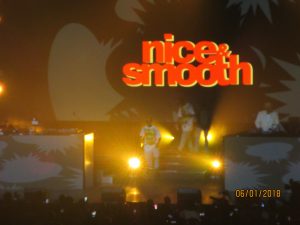 After showing a short video on the monitor with clips of when Shaq, Tupac (RIP), The GodFather himself, James Brown (RIP) and MC Hammer were on Yo! MTV Raps, NICE & SMOOTH hit the stage with "Hip Hop Junkies" as my bestie & I started doing our SHEEPSHEAD BAY H.S, Half-Time Routine from when we were SHARK Cheerleader/Boosters for our HS Football team. (Still LMAO and SMH).
Another Legend in Hip Hop, Ralph McDaniels hit the stage to Thank us and reminded us, VIDEO MUSIC BOX would be turning 35 years old soon. I was proud to have been a lover of the Hip Hop Culture for so long. Most of my life, in fact. VMB bought Music videos and Party scenes to those of us who: 1) didn't have Cable, and 2) some who, like myself, were too young to be out at clubs with grown ups back then. (Although we tried). And 3) those like me, who didn't have older siblings to wait up for and hear about all the funky fresh parties they'd just be getting back from. We were lucky to have Video Music Box.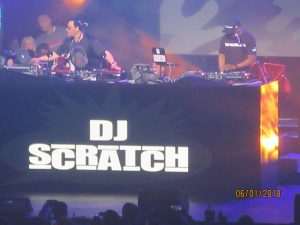 And just as we were catching our breaths from the Legends who had already came on stage, My FAVORITE DJ OF ALL TIMES; The ONLY DJ Tatted on my arm (So Far), Jam Master/Grand Master, DJ SCRATCH hit the stage with DJ SKRIBBLE and gave a Salute to ALL of the DJs who would be coming out. He brought the Legendary, KIIIIID CAPRI (read/say it in his voice) out 1st and KID CAPRI took us on a quick SPAZZ OUT Trip by going into a quick mix perfected by giving us some, Ruff Ryders Anthem, into some Snoop Dogg- Gin & Juice which lead us going into, HERE WE GO YO! HERE WE GO YO! SO WUS SO WUS SO WUS THA SCENARIO as we all chanted on one accord. The moment was EPIC. But below is a video of what happened next because I can't put what I watched into words… Pay attention to how Kid Capri is literally playing with the turntables to LL Cool J, Rock The Bells, making it look so easy… and DJ Scratch made Biggie (RIP) "10 Crack Commandments" Shout Out New York via Area Code WITH HIS MUTHA EFFIN HANDS… I CANT MAKE THIS SHYT UP!!!
DJ Scratch then hit us with a routine that only Real DJ's can Master. Hip Hop and DJ fans know,,, Thats Right! "Peter Piper" by RUN DMC 'Not Bad Meaning Bad but Bad Meaning Good' portion. I swear trying to keep up with his hands will have you going crossed eyed and then blurred vision. While adding creative music to your ears. OOOOh But Wait! He wasn't finished. HE WENT FULL ZONE BROOKLYN on us when he played Busta Rhymes and M.O.P ANTE UP remix! If you know me in Real Life, you know: that song at any given moment will cause me to GO OFF! And I pity tha'fool who is in my personal space because I truly GO OFF! Spazz! Blank Out! Get Loose, lol.
Hopefully I'm doing justice in describing this night because I want you to feel like you were there too. However, I must say, this was one event, even I, A Full Week later, STILL Cannot believe what I'd witnessed. Combine that with the Energy, Vibe & Contact felt in the building… IT WAS SICK! A Classic moment is in the video below when KURTIS BLOW, who is 58 yrs old, came out in ALL White to perform "These Are The Breaks" and LITERALLY started Break dancing. My Eyes had seen it all. We cheered him on and I for one, was very impressed.
Kurtis Blow brought out KOOL MOE DEE and he asked "HOW YA LIKE ME KNOW?!" Followed by K-SOLO who had us "SPELLBOUND" Then Boston Hip Hop legend, ED O.G touched the stage reminding us when a common motto for the 90's was "I GOT TO HAVE IT". Then we were back in BROOKLYN when SMOOTHE THE HUSTLA hit the stage with "BROKEN LANGUAGE", a song I would hear blasting from every drug dealers car when it came out in mid-90's. Then LARGE PROFESSOR had us gone with "Looking at the Front Door" and told us we were "Fakin'the Funk". And when DOUBLE X POSSE came on asking, CAN YA DO IT?, we replied as one, "I'M NOT GONNA BE ABLE TO DO IT", I mentally went back to being a teen mother and that being one of my phrases used often. (Ha). FUSCHNICKENS were up next. I still can't rap the fast parts to most of their songs. Yet, I'm still a "True Fuschnick". The BEATNUTS came out rocking to "Off the Books" while the video which features Big Pun (RIP) & Cuban Links rocked above them on the monitors.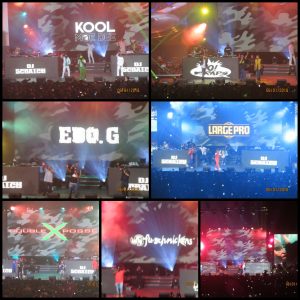 Dr. Dre came on and had us chanting, I. AM. HIP. HOP before bringing POSITIVE K who asked "What's Ya Man Gotta'do wit'Me?!" Next thing you know the crowd went Bizirk when he started with "Excuse Me Miss..." and we heard MC LYTE reply "NO! I'M NOT HAVING IT!',,, She gave us some classics of her own like, "Cha Cha Cha" and even gave us her verse on "SELF DESTRUCTION" We rapped with her to "Paper Thin".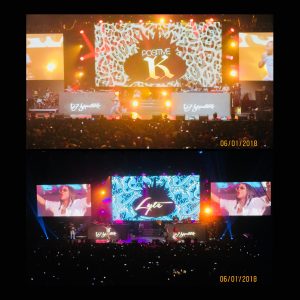 When BRAND NUBIAN hit the stage, they started us off with "All For One," then gave us a Notorious BIG intro into "Punks Jump Up to get Beat Down," and had us flowing Hard to "Slow Down"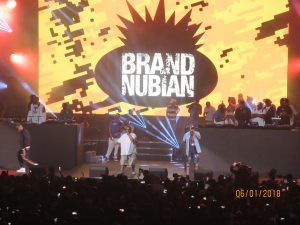 By this point, I'm sweating from the Hypiness. I'm about 4 "Barclays" size beers in, Plus High from all the contact, with the Munchies, as I waited for my bestie to return with some snacks and we Still had more to see! That's when Doug E. Fresh hit the stage. Video below is the surprise he brought out…
EMINEM sent his fondest memories of watching YO! MTV Raps before he was famous, via video. EPMD followed (without DJ Scratch) with some of their hits. Ed Lover brought out one of my favorite Comedians. A True Hip Hop Head. One of the only Comedians that takes a DJ on tour with him. A DJ I actually know, (DJ Spinbad, SKRATCHMAKANIKS)… the one and only, Russell Peters who came out to say a few words. He brought out a Living Legend, GRANDMASTER CAZ, who then announced BIG DADDY KANE would be up next. But before he hit the stage, We GOT LOOSE! when MARLEY MARL came on and started us off with some members of The JUICE CREW. First up, CRAIG G, MC SHAN, and ROXANNE SHANTE, Please Believe, (in her voice) I've posted a clip of her below as well as when KOOL G Rap hit the stage to perform.
Finally, BDK came out and gave us the energy he always brings. He definitely gets THE JOB DONE! "Aint No Half Stepping" and he's 'Still Calm and Humble'…. And its still never debated about 'Whose Flat Top Ruled in '89!' Check it out below…
ERIC B stepped out in a Dope Ass, Custom Made, Gucci, Dapper Dan Coat with his name on the back which he modeled a bit for us. RAKIM stepped out and told us to "Check Out My Melody," which we did. Then he told Eric B to 'Make'em "Clap to This".
As if my heart could take much more, my favorite MC OF ALL TIMES, and TEACHA, Author of my Signed copy of "The Hip Hop Gospel", KRS ONE Blessed Us with some Classic hits. At that point I was for sure the Roof had been set on fire and if I had to go at that moment I would've been at peace. Of Course there's video below to make my point clear. Salute to Uncle Red Alert and Fat Joe who rocked with him as well… *Please excuse the shakiness but I Spazzed Out as you will see*
WHOA! How's that for a night of HIP HOP! If you are a Lover of Real HIP HOP, especially the 90's Era, this event would've had you on a clouded zone higher than 9, Mark My Words. I had already seen many of the legends who touched the stage before Live in concert but to have them ALL, At One Time, One Stage, in One Night, Oh Em Gee! This will be an experience that will last a life time for sure. I will relive it for years to come. I will talk about it forever. It's now apart of my history and now I have a blog to share with those who were there, the ones who couldn't be there and for the Hip Hop Heads who slept on being at this event. I'm smiling just thinking about all the fun I had. You know, simply living my life like its Golden. The HIP HOP Way! For the Culture. The way Life should be Lived!
Needless to say, my #BTNYC41stBirthdayCelebration started Off Tha'Hook! I could go on and on about the YO! MTV Raps 30 Year Reunion but you Really would've had to have been there. It was a night to remember. A night shared with not only my bestie but other Hip Hop Junkies. I cannot wait for the next event. Stay Tuned…
As Always, SPREAD LOVE ITS THE BKLYN TYE WAY!
*Feel free to leave comments below if you were there or if you have ever seen these Legends perform. Also let me know about any HIP HOP events coming up in your City and/or State. Thank you for reading this. Hope you enjoyed. I know its long but heck, THE SHOW was over 4hrs long, lol*