CTRL+ALT+DELETE – Album Release from DJ D Skillz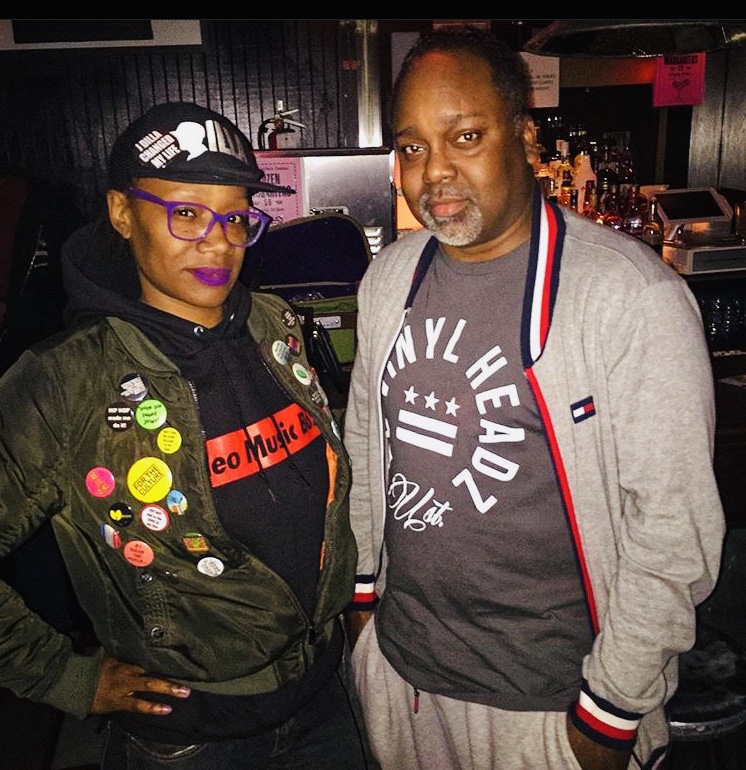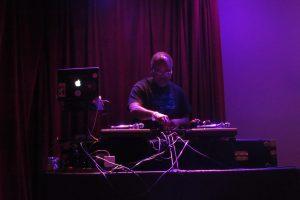 Those of you who know me in Real Life, know that I'm a Huge HIP HOP JUNKIE and mainly when it comes to the Art & Craft of DJism. I Love how you can have 1 song, and give that one song to multiple DJs and they will All spin and manipulate the song to make it sound different and unique. It is also a skill, for a DJ to take many sounds from various thing like voice audios, sampled songs and instruments and put an entire Digital Album together. Let me put yall on to a DOPEASS DJ by the name of DJ DSkillz. (@DJDSkillz -IG)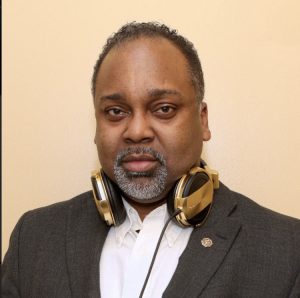 DJ D-Skillz is someone who I was first introduced to a few years ago while I was tuned into an Online HipHop station called FRESH RADIO (www.ItsFreshRadio.com). He has a show that airs every Tuesday @8p (EST) & Fridays @7p (EST), called LEGACY RADIO. I became an instant fan. He is originally from Washington, DC but I have seen him spin in the DMV a few times. I've even caught him in BROOKLYN at the famous BELL HOUSE after seeing him the day before at BOWERY ELECTRIC, in NYC (2019). To top it off, I now currently own 2 of his Digital Albums.
His current digital album is titled, CTRL ALT DELETE and it is an album that was very skillfully put together. I recommend Music Lovers, or rather, Lovers of Music, to purchase a copy and add it to your playlist. You will Not be disappointed.
It's available on iTunes, Apple Music, Google play, Spotify and HERE IS THE BANDCAMP Link: https://djdskillz.bandcamp.com/album/ctrl-alt-delete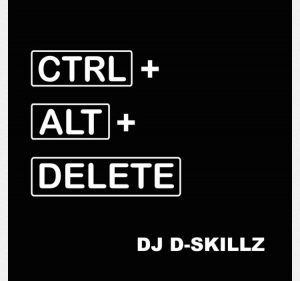 CTRL ALT DELETE, Released, June, 5th 2020. It is not a body of work that was thrown together with just songs that DJ D-Skillz loved. This album tells a story. A story telling that is enjoyable to your ears. From the intro "The Great Reset" to the last track, which carries the same title as the intro but the Extended Instrumental version. I was able to sit in on his Online Release Party to review this body of work and since purchasing it, I've listened from beginning to end; 1st to last song, in order and on shuffle so believe me when I say, this digital work is great for Every Occasion and Every Mood!
Unlike his last album, titled, ETERNAL WEEKEND, which he did while living in the U.S, DJ D-Skillz recorded this new digital album in his new home in Berlin, Germany. When I asked if there was a different mood in creating this latest album there in Germany than doing the last one home in the United States, he replied, "Yeah, definitely. This album was recorded almost entirely during the Coronavirus Pandemic lockdown (March/April 2020). And I had just moved to Germany, so there was the excitement of being in a new place, but also the anxiety of the pandemic and the lockdown. There were also things that I learned (technical things) during and since the last album that I put to use on the new album. I also did more sampling on this album than the previous one."
CTRL ALT DELETE, shows the amazing turntable skills of DJ D-Skillz. This digital album is a combination of many great sounds, beats, (a few) samples and keys that take you on a continuous, musical flow. DJ D-Skillz informed us during the release, a friend of his, Nick Olmo, had put him on to an online database with public domain audio clips from everyday Americans, Speeches from World Leaders, Artist interviews, etc., which was made available by the Library of Congress to be specifically used creatively. That added to the Dopeness of this album. These various audios you will hear throughout the album.
DJ D-Skillz starts the album off with a sound he says was influenced by a Legendary group, RUN DMC (& JAM MASTER JAY – RIP). "Sucka MC's", inspired how the 1st cut starts off. That along with the "Loud Drums", and the patterns from their Live routine by another track of theirs called, "Here We Go", which they used to do to an old Rock song by Billy Squier called, "The Big Beat," – was a huge inspiration. This track flows with inspirational words being recited. I recommend it be played Loud at an Ignorant level.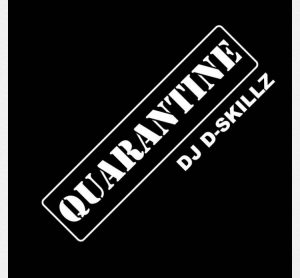 We then move on to "QUARANTINE", which, clearly, is right on time with the world, Literally, having to Quarantine themselves due to COVID-19 (aka CoronaVirus aka THA RONA). It was released as a single for this album. Something he was eager to put out. I love how it starts off with the audio from the Emergency Broadcast System and its mixed with the Old Skool Dial Up Modem. Although, DJ D-Skillz says this track was meant to be jarring, when it goes into this Quiet Storm groove, it reminds me of cruising down the street on some roller-blades or riding real slow in your car on Cruise Control. This track was influenced by a song by Pharoah Monch called, "HELL" which also starts off with a Modem sound playing.
S-BAHN, the 3rd cut on this album makes you want to freestyle. It puts you in mind of "City Life" – the hustle and bustle of it all. This was named after the train system in Germany so it totally makes sense that it starts off with sounds of a train and has announcements in German. Add the piano cords and drums throughout the track, blended it and you have this sound that shows DJ D-Skillz creativity level of greatness. I'm also a NYC Straphanger (Frequent Subway rider) and spend a large portion of my time riding NYC Public Transit so this was enjoyable to hear, personally. The piano sound was influenced by a Wu-Tang song, "Shame ona Ni*"and the drum vibe came from "OhMyGod" by A Tribe Called Quest. When I listen to this track, it makes you feel like you should be in constant movement. With us being on lockdown, it's uplifting.
DAZE IN A WEEK (Yall see what he did there?), is a cut on this album, DJ D-Skillz said started off as one flow but once he added Strings to the Drums and Guitar cords, this cut took on a life of its own. The title came from us all being on lockdown due to the CoronaVirus. It's the 2nd single from the album. He liked a string riff from a Classic song by Capone-n-Noreaga called T.O.N.Y (Top Of New York) and had always wanted to replicate it, if ever given a chance. DJ DSkillz was very proud about this track because he mentioned, it had its own life as if He didn't make it. (Creatives will Feel That!)
The track that follows, DJ D-Skillz actually composed it and left space for words to be added. WORLDWIDE was made differently than his normal technique. Usually DJ D-Skillz will hear a flow fully in his head, the sound, but by the time he would get a chance to get it out of his head, its gone. As a blogger and writer, it puts me in mind how I will have a dream or thought while sleeping, wake up and grab my pen and pad by my bed and write as much as I can remember. Now, DJ D-Skillz can get it out right away as a FullTime DJ. It may not be exact but it comes close. This time, he composed it with more sounds. With a machine he used that has millions of sounds, he found some strings and other drums and pianos and basically made magic happen.
The next track, RING OF FIRE, is DJ D-Skillz 1st Official Released Cover Song. Its a Country song with a Reggae groove. It's inspired by a Country song by Johnny Cash. But he wants it to be known, as most of us were, He, Too, was inspired by the late great Bob Marley. After getting more digital horn sounds, he put this track together which to me makes this album well rounded.
CTRL ALT DELETE has Variety sounds for the Many Moods and feelings we go through but also puts you in a good mood each time you press play. But What's a  digital Album by a Turntablist without him showing us his Skratch'in Skillz. So, D-Skillz takes a Big Daddy Kane classic featuring Biz Markie called, Just Rhymin', along with a Skratch Sound used often called "Change the Beat" and made it the Interlude. KEEP ON is FREEEEEEESH'TA DEF! It Excited the HIPHOP JUNKIE in Me.
One of his Favorite tracks, ACROSS 16TH STREET, D-Skillz said, because he likes the way it sounds on several different systems he's played it on; its a track that holds up well. I have to agree. I love it! It's so groovy to me. It has a Classic flow and is sampled by a classic song from Bobby Womack titled, "Across 110th Street."
When we get to OHIO DRIVE on CTRL ALT DELETE, it is a Remix  version to a same titled song off of  his 1st digital album (called, ETERNAL WEEKEND in case you forgot). The full remix title adds, SPREE RIVER REMIX which is the River that runs where DJ D-Skillz is, in Berlin. I want to get up and dance. Shake the day off. Zone Out. It takes me back to my RAVE days under the Brooklyn Bridge (early/Mid 90's).
If you play CTRL ALT DELETE from beginning to end you will come full circle when you come to the last track, with same title as the 1st track, only it's the longer version without the samples. On, THE GREAT RESET EXTENDED INSTRUMENTAL VERSION, the sounds used, speak to you. He allows the beats to Air out for sure. You can hear the Drums, Pianos keys, Base sounds, etc. LOUD AND CLEAR! It is truly amazing to your ears. The way it all comes together.
This digital album is right on time. I love the many moods I was able to drift to each time I played it (so far). CTRL ALT DELETE tells a story without words. Not many DJs, Composers, Beat Makers can do that. I also appreciated and found it interesting how many DOPEASS Freestyles it had me spittin' in my head, lol. There are some tracks that you can definitely write to, too. If you're a writer, whether Songwriter, Blogger, Poet, do it and send it to him. (CC: me, BklynTyeNYC@Gmail.com) – That's MY CHALLENGE to You All! Seriously. Who knows, it could be a HIT!
CTRL ALT DELETE is a digital album you should add to your playlist and rock whenever you are going for a walk, working out, chillin'with friends and family,,, Whenever-Wherever!
STAY TUNED for my Podcast COMING SOON (JULY, 22 2020). DJ D-Skillz will definitely be on one of my episodes in my 1st season. I look forward to chatting with him as well as hearing more from him. Follow him on all social media platforms and listen to him online. –> 
FACEBOOK: https://www.facebook.com/djdskillz/
INSTAGRAM: https://www.instagram.com/djdskillz/
TWITTER: https://twitter.com/DJDSKILLZ
Thank you for reading. Check out CTRL ALT DELETE and be sure to leave comments below. Tell him I sent you and as Always,
SPREAD LOVE ITS THE BKLYNTYE WAY!