Iyanla Vanzant: ACTS OF FAITH….(Remix Tour)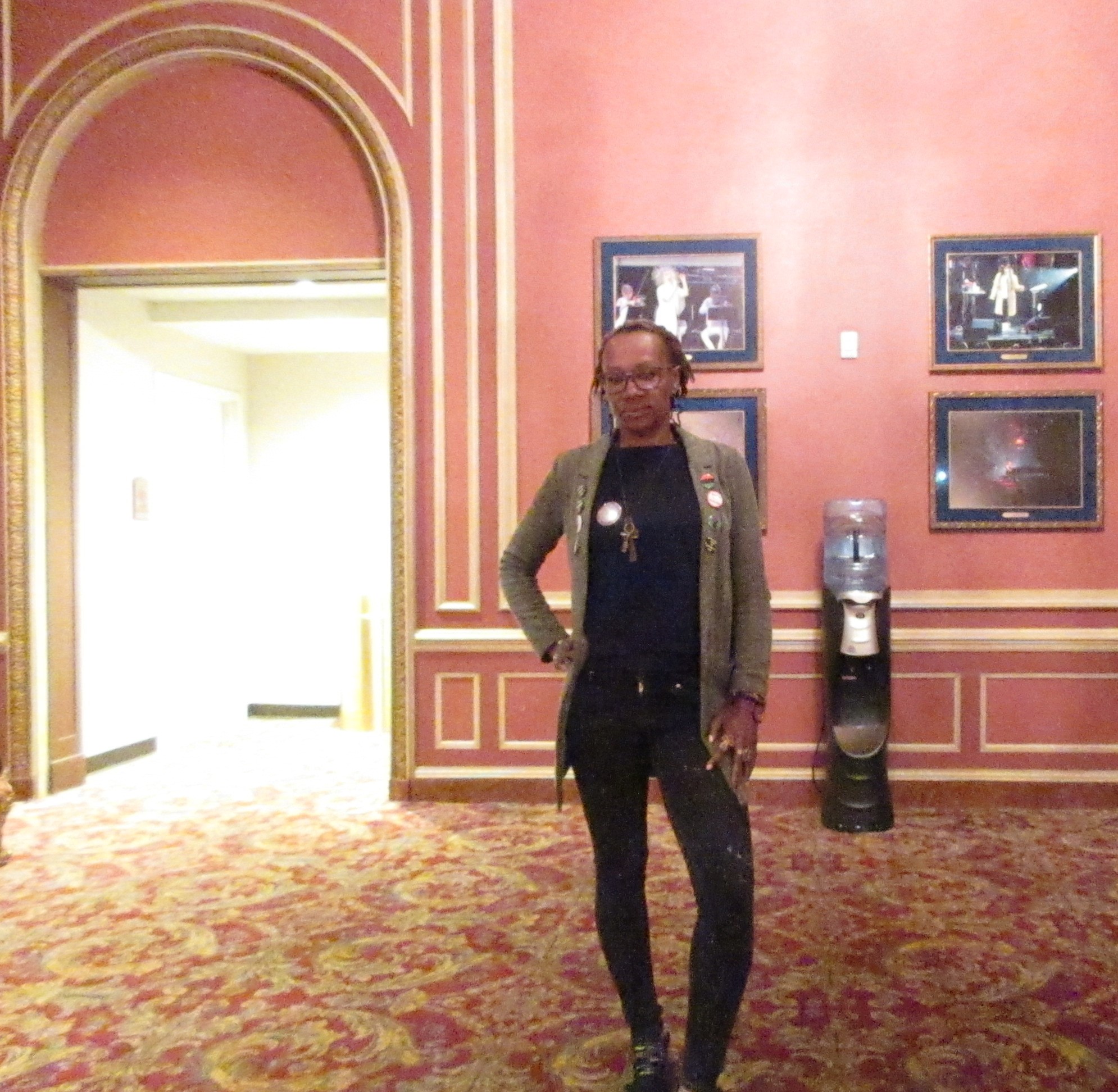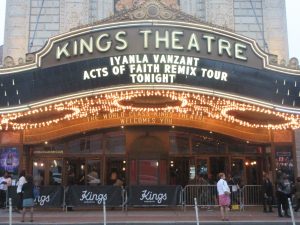 I spent most of 2019 trying to get my life together. That was one of my goals I made in the beginning of last year. I did a ton of reading. Self-Help, Self-Worth, Motivational, Inspirational, and all other books I could get my hands on to help myself become a better ME. I had a few flaws I wanted to change or at least work on. One of my favorite people to listen to and read is, Iyanla Vanzant. I have spent most of my young-adult to adult years being led by her faith and truth and struggles and advice and motivation. She's a true inspiration. I was able to see her the 1st time at ESSENCE FESTIVAL 2018. If you haven't checked out the blog I did on it, you can check it out here=>  Iyanla Vanzant Fixed My Life with 4-P's 
Having another opportunity to see Iyanla Vanzant for the 2nd year in a row was great but even Greater because I would get a chance to see her in (OUR) boro of BROOKLYN! My birthday was approaching so what better way to get a jump start to a Better Life than with her.
When I arrived at THE KINGS THEATRE (1027 Flatbush Ave, Bklyn 11226) there was a mixed crowd. There were mother-daughter, father-son, CoWorkers, even Full families (including parents with kids of various ages). A woman even came out with a 'Comfort' dog. White, Black, and every other nationality was in the building.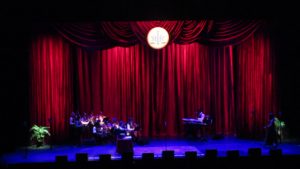 I was a bit confused at first because as the show was about to begin they started setting up for a full Orchestra on stage. We were pleasantly surprised when Le'Andria Johnson stepped out. Up until that day I didn't know much about her except the one episode I seen of her when she was on Iyanla Vanzant's FIX MY LIFE on OWN.
Well! Let me tell you, and even as I type this out, I get chills off'the Memory. Chile! She started singing, "Better Days" and I couldn't believe we were only 3 minutes into the nights engagement and I was already in tears. By the time she finished, I felt a Shift! It's a feeling I cannot describe in words but if you've ever been touched by GOD then, you know THE SHIFT!
After LeAndria blessed us, a deep voice started pumping us up. Getting us hyped. We were ready for the women of the night to come out and give us some Peace and Light. It was at this moment, as the announcer ran down Iyanla's long list of accolades from 18 books, 4 NAACP Awards, Fix My Life, etc., that I realized we were 6 months from the decades' end. I said a little Prayer and asked God to help me NOTICE what my Purpose was because I was so unsure. I asked Him to give me a sign when a message spoken by her would be Directly For Me. It didn't take long for God to answer my Prayer.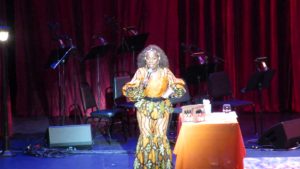 Before Ms. Iyanla Vanzant, stepped out looking Amazing as Always, she started talking to us from behind the curtains as the Orchestra softly played dramatic music. She reminded us "ACTS OF FAITH"  was released 25 years ago. She said she wanted to bring some of the wisdom from the "Page to the Stage." She wanted to tell us what she has learned about FAITH.
When, "ACTS OF FAITH" was published, she told us, although she was acting on FAITH, she was not clear. And as Iyanla Vanzant finally stepped out, she was greeted with a standing ovation and loud cheers as she continued to speak.
She said, "FAITH is what lets you know that the BLESSINGS is not going to come from the Starting or the Doing. It's going to come from Completing and only FAITH will get you through to Completion."
LESSONS FROM IYANLA VANZANT –
NOTE TO SELF-WHAT I LEARNED/WHAT I WAS REMINDED OF:
When you can see it, dream it or whatever, you can have it. We must have FAITH! It will carry you through.
When our backs are against the wall, its easy to lose FAITH at times but we shouldn't. Our healing doesn't have to be hard.
Know who you are at the Essence of your being and Believe in Yourself. You will shine brightly simply because you have FAITH in the Truth of who you are.
Sometimes its TIME, ENERGY & PEOPLE we have to give up in order to move forward. FAITH will take you where you need to go.
Iyanla Vanzant was ready to begin. This was about to be a Lesson of a Lifetime. Spoken in the Realest and Hardest BROOKLYN GIRL LINGO from One of my Favorite BROOKLYN Queens. She 1st had us hold hands in Prayer. She told us to shake off the day; come fully present in the moment. "You're Never Alone," she told us, then added, "EVER!" "We've come this far by FAITH!" Ms. Vanzant prayed that each of us walked out of The KINGS THEATRE different than when we walked in. When she finished Praying, she asked us to hug someone we didn't know and we laughed when she told us to be sure the person we hug is not with their 'Significant Other', Ha.
A WORD:
We hold on to dark experiences and emotions. We think there's no way to let it go.
We've been programmed to do whats easy over what takes effort.
We've been taught to value Security over Significance.
We've been conditioned to worship the material over the spiritual.
We want full time blessings for part time devotion.
We want healing without being committed to a healthier lifestyle.
"We've become FAITHLESS. It's not that we don't have FAITH. It's that we put our FAITH in the wrong things."
A LESSON ON FAITH/WHAT I LEARNED:
"FAITH is the inner knowing that dares your soul to go beyond what your eyes can see."
FAITH is not just what we believe in. FAITH is what we LIVE. We, WALK IT, TALK IT, BREATHE IT!
We get caught up in Doing Life and forget about Being in Life. *BEING in terms of, the Truth as it is Right Now*
Iyanla's acronym for FAITH is: (F)earlessly (A)llowing (I)t (T)o (H)appen.
Ms. Iyanla Vanzant told us, Experiences comes and goes. It comes to pass. Not to stay. They come to stretch us and grow us in our Faith but we run. We get caught up in fear. Fear is a FAITH killer. We must bow to our fears. Acknowledge them but do not give in to them. TRUST YOU! HAVE FAITH IN YOURSELF. WORRY, something I do often, is also a FAITH killers. She then read a page from ACTS OF FAITH:
FEBRUARY, 13th…
DON'T WORRY, BE HAPPY – Bobby McFerrin
"Worry is the vampire that drains life of its force. Worry stagnates the mind, creates an imbalance in the immune system; weakens the throat, your power and authority CENTER; impairs the ability to see beyond the thing being worried about. We worry about things we cannot control. We worry about the past and the future. We worry about those things we cannot do or have not done and how they will affect what we are doing right now. We worry about what we do not have, cannot get and things we have lost. Worry creates confusion, disorder and helplessness. Then we worry because we cannot figure things out. We must eliminate the tendency to worry without worrying if it will work out. Take the situation creating the worry, briefly and concisely write it down. Place the paper on which you have written in a window, facing the sun. Make a commitment to yourself to let it go and move on. Everyone knows that when the sunlight hits a vampire, it first shrivels up and then it is gone."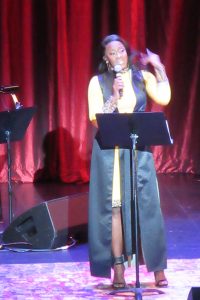 After a short break, Le'Andria was back to sing for us. She also gave us her testimony and it brought me to tears. That's when I noticed the ankle bracelet she was wearing. She was proof that the storms never last forever. FAITH will see us through the rough times.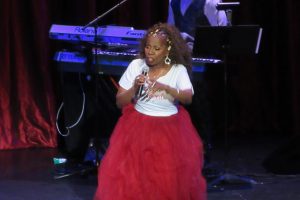 When Ms. Iyanla returned to the stage she was rocking a White T-shirt and Red, Fluffy TuTu, completed with Red&White Converse kicks. As 'rocking, sway ya'hips', music played live behind her, she told us to Hold the one thing in our mind that we Reeeeally Want. She said to bring it into our Minds; See it. Whatever the 'Thing' is, Feel it. Then she told us, if we couldn't see it then to Imagine it. "See it in Color, Not in Black & White." Breathe it, she said. "Hold that thought",,, Then she said to let it move through our blood, through our arms then to our Hearts and feel what it will be like to have it. She told us to put our hands over our Heart and keep breathing, then grab it out in our left hand offer it up to the Universe with FAITH AND TRUST… and now, she assured, it must come into Manifestation. Then bring it down and eat it, swallow Ingest, Digest, Assimilate.

There was so much more she spoke on but I'd be here forever telling you all about it. I will say, If you EVER have a chance to see her Live and in Person, PLEASE DO! It is a Life Changing experience. If she has ever moved you to tears from seeing her on TV, Trust, the LIVE version of her will have you Praising the Lord and Thanking HIM for allowing you the Opportunity! Iyanla Vanzant, has been through many trials and tribulations that she has shared with us for many years through talk shows and her books. She is so transparent and its why I love her the way I do. She is my Shero.
Thank you for taking time to read my words. I hope this gives you things to think about. I hope for those who have been down and out lately can have a little more FAITH! Feel free to share this with your loved ones who may be down and out and have given up. Assure them FAITH is what they need. I have Faith that this has made someone rethink about giving up on their hopes and dreams and motivation to KEEP GOING!!!
COMMENT BELOW ON YOUR EXPERIENCES WITH FAITH. HAS FAITH EVER STEPPED IN AND CHANGED YOUR LIFE? LEAVE WORDS TO BOOST THE NEXT READER. AND AS ALWAYS, SPREAD LOVE, ITS THE BKLYN TYE WAY!