Greedy Moments: BROOKLYN BESO…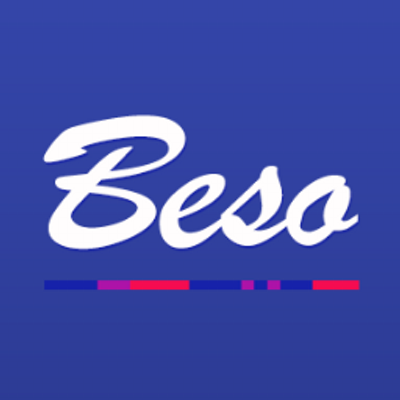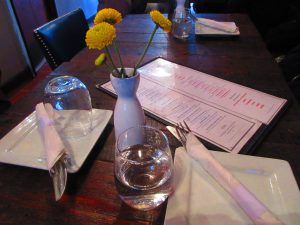 I have a love for a lot of things. FOOD falls under my Top 5. My slim look fools a lot of people but I. GETS. IT.INNN! It kind of works in my single-life favor when I'm offered out on  dinner dates though. The last few years I have been watching what I take in by cutting out fried food and cutting back on beef, pork and chicken.  I am an early riser (although I Never Really Sleep) so I start my day at 5am. EVERYDAY! I don't eat heavy That early in the morning. For the most part I drink a cup of Joe and I'm good til' about 10a-11a. If I have time, I will also make Quaker Oats, Old Fashion Oatmeal which holds me down. Needless to say, when it comes to eating my 1st full meal on any particular day, usually, it starts with Brunch (breakfast/lunch). Most times its something with fish. Salmon is my favorite. Baked or Broiled. However, every now and then I give in to unhealthy grub. My Cheat Days vary.
I don't enjoy eating alone but I'm cool with doing it since my hunger waits for no one! But recently while coming from an audition with my (only) son who is starting his acting career, I decided to treat him to Saturday Brunch at a BLACK OWNED spot that served Latin Style cuisine I had heard about in Brooklyn called, BROOKLYN BESO (370 Lewis Ave. 11233). It was convenient to get to via public transportation which for me was a plus. It is located in a Residential neighborhood surrounded by walk-up apartments, Brownstones and Store Fronts in the heart of Bedford-Stuyvesant, also known as BED-STUY (HIPHOP FACT: birth place of Biggie & Jay Z). When we first walked in we were greeted by the Hostess who was able to sit us right away. *Perfect Timing* As we passed the people at the bar on our right, immediately the smell from the kitchen made my mouth water.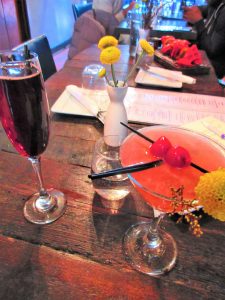 We looked over the menu. I was unsure of what to order because as I read over the descriptions, each choice sounded Delicious. When the waitress came, she asked if I wanted to start with a Cocktail. There were 2 I couldn't decide on so I told her she may as well bring both. WHY NOT! *Feel Free to Judge*
The LOLA, (Champagne, Sorrel, Spiced Rum) was great, and Not because it was Purple, lol. I Adored how the taste lingered a bit. *Sip Water*
The Signature Cocktail, BESO, Also had a nice after taste. It was presented very nicely with the float of Cava Cherries and a Flower. It has Cointreau, Pineapple & Cranberry Juice, with Raspberry Vodka as the main Spirit. Perfect balanced Flavor. *I had another*
My son went with a glass of water and knew he wanted the (boneless) Chicken when he seen it was served with Red Velvet Waffles. I'd figured that since I would just try his, I would go with the Whole Spicy Platanos Rellenos which was a Sweet Plantain, stuffed with Spicy Bacalao. Although it was more so like an appetizer, it could definitely feed 2, unless you are like me and too have a 'Big Girl' living inside you so you can eat it all by yourself. Because I'm Greedy, I also went with the Shrimp & Grits. The Grits had Shrimp that was sauteed with white wine and garlic sauce cooked with roasted red peppers & pickled onions. When I tell you, as I type this now my mouth is watering just thinking about how flavorful it all was. I almost believe Gods came down and hand made it especially for Us! Ha, Seriously, It was THAT Good! *These pictures do not do justice*
Brooklyn Beso is a nice social spot when linking with friends and family or even if you enjoy Quality Time dining alone. They have a patio section as well as outdoor space in the rear portion of the establishment. I strongly recommend calling in advance to confirm hours of operation. If you are planning to meet up with friends/family, make reservations especial if your party will be 4 or more on any given day and time. Brooklyn Beso also has space for a DJ set up for those who are interested in renting them out for events. Visit their website www.brooklynbeso.com and follow them on Social Media @BKBeso.
*Currently, MONDAYS is HAPPY HOUR: ALL DAY and my personal favorite day is FRIDAYS: 90's R&B AND HIP HOP BRUNCH with a LIVE DJ! *Follow my IG (@BklynTyeNYC) to see when I will be there to Join Me*
And DON'T FORGET
SPREAD LOVE ITS THE BKLYN (TYE) WAY by leaving a comment and sharing this with your friends and family!