*An interesting FUN FACT about me is: my 1st Birth name is/was PEACHES. My grandmother had it changed right away but my mom still called me that and introduced me by that name til I was around 5-6yrs old and started private school. I say this to say, I always know how long I've known someone if they call me by that name. I didn't become 'Tye" or go by my 2nd first name (Tyree) til I became a teenager… ANYWAY…*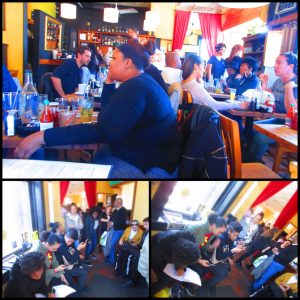 Recently I had a friend reach out to me to let me know about a Black Owned spot in Brooklyn called PEACHES (http://www.bcrestaurantgroup.com/peaches)  Located in Bed-Stuy (Bedford Stuyvesant: 393 Lewis Ave). I couldn't wait to check it out which I did a few days later with my 11yr old Heavy Hitter. It was our usual Saturday, Mommy-Daughter date. They open from 11a-4p, close for an hour and re-open from 5p-11p *Fri & Sat – Check their website for Sun & Week Day hours.*
We traveled from Queens. Instead of taking the train we took the Q10 to JFK airport and transferred to the B15 which let us off across the street on Lewis & Mac Donough St. When we got to the neighborhood, we admired the historic Brownstones. PEACHES was an actual Brownstone home. *There's outdoor seating arrangements when the weather is nice* I was happy to step into this establishment which really was like "Coming Home." Heavan and I walked in and it was a full house. Picture walking into you grandmothers house with all of your greedy cousins and aunties and uncles there waiting to grub on grandma's Delicious food! *Ha* But you don't worry because you know there will be a seat at the table for you eventually and more than enough to eat. I gave the hostess my name and she said it would be about a :45min wait which was cool.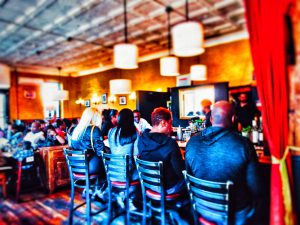 As we waited for our table, I couldn't help but sing along to the songs playing from whoever had the dope ass playlist going. We looked over the Southern Style menu and I wanted to try everything. Once we decided on what we wanted, I went to the bar to grab a drink. I appreciated the hooks underneath for us ladies who carry huge bags. Oh! Annnd they have outlets to charge up which is a Plus for anywhere I eat and/or drink at. Our table was ready. The dining area was nice and had a cozy feel. Like a living room-dining room-lounge kind of feel if you take the entire room in from the corner.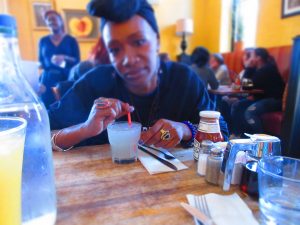 The hostess took us to our seats and we were greeted by our waitress. I ordered another HELLO BROOKLYN (Gin, Ginger Syrup, Fresh Lemon Juice). Heavan ordered something I make at home for her when we chill called a "KidMosa" (Orange Juice & Sprite). We also gave her our order. I went with the 'Grits and Blackened Catfish w/Spicy Tomato Salsa' and Heavan kept it kid style with the 'Hand Ground Burger w/Swiss Cheese and fries.'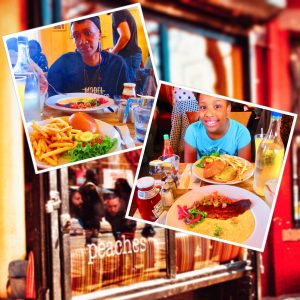 When our food arrived, it caused instant Droolage. Oh Em Gee! The waitress offered to hand grind some pepper on my meal which I thought was fancy. I thanked her and we dove into it all. Of course I gave Heavan some of my food because you know the kid rule: If you take some of mines, I take some of yours! *rolls eyes because all I took was 1 fry*
Everything was so good. Flavorful. We took our time eating. Savored the Flavor! The waitress checked on us periodically and the other staff that walked by continuously greeting us with smiles. Then we ordered dessert. Although I was full and had no business; I didn't have an appetizer just to have room for my usual dessert choice, Cheesecake. Heavan had the Red Velvet Cake w/Cream Cheese frosting. It was D'Lish! All of it! I paid the bill and was ready to leave before the 'Itus' sat in.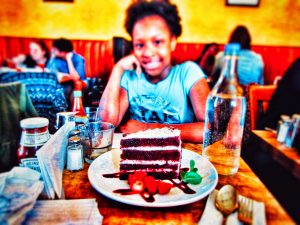 Since the 1st time going with my daughter, I've been to PEACHES 2 or 3 times with different friends and each time has been an amazing experience. The staff is wonderful. The food is great (and affordable). The drinks are on Pizz'Oint! It definitely has become one of my favorite spots to frequent. Each time I go I try something different off of the menu and I have a few more times til I've tried everything. I have not been disappointed.
I recommend you get out there. Support a Black Owned Business. Eat and GetCho Life! I Promise you, it will be worth the travel. *Take public transportation if you can because it's in a residential area. so parking is not easy* But either way, as Always,
SPREAD LOVE ITS THE BKLYN TYE WAY!