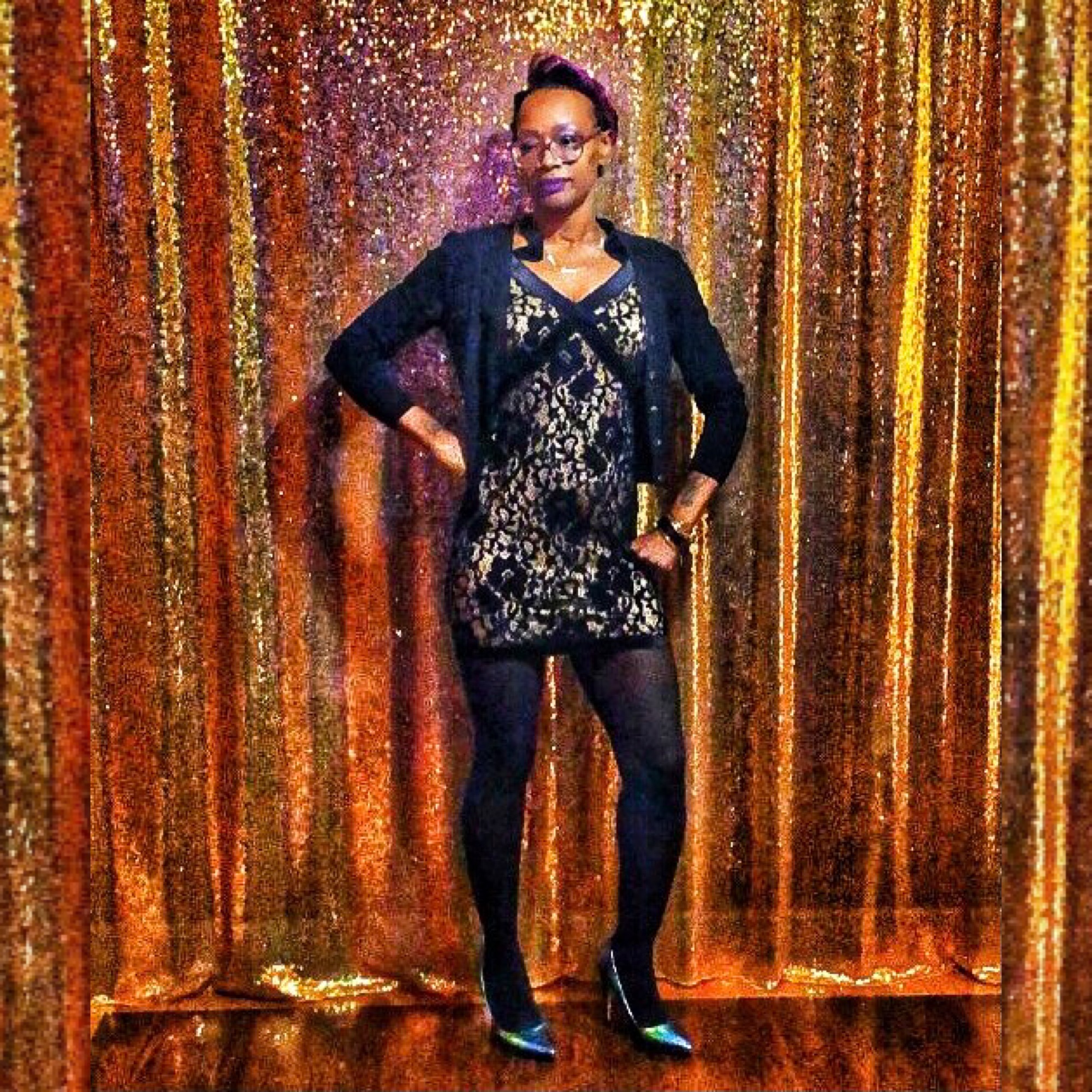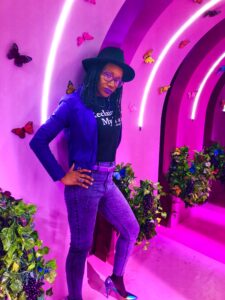 As we come to the last week of December, this will be my last blog for TWENTY-TWENTY and what a Year it has been! I have not blogged as much as I would have liked to but this year has been tricky. In retrospect, if you think about it, towards the end of 2019, we were all screaming, "2020 IS MY YEAR, NO DOUBT!" And Well, I know this is Not what we expected. We did not foresee this year showing up and showing off as it has. Geesh!
If anything, we anticipated the election because we want #45 O-U-T!!! But COVID-19 happened early on this year. We've lost loved ones. There were no Proms and Seniors had to do Drive-By Graduation Ceramonies. Families had Funerals on Zoom. Births took place without the spouse holding the moms hand. Other celebrations had to be altered the best way possible.
With that being said, I didn't want this blog to focus on the negativity because there were positive things that came out of this shitty year. If we look at the brighter side of things, we can appreciate the forced changes and prepare for what's in store for 2021.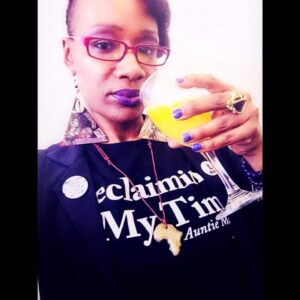 Take into consideration the following facts – for those who can relate…
In the beginning of 2020, the world shut down and those of us with kids had to turn into full-time teachers, as if we needed to add anything extra onto our list of titles while we monitored their online classes. However, that gave us time to really sit and see how and what our kids were being taught. It also gave us an opportunity to spend more time with our kids, for those who took advantage.
Although some folks lost their jobs, that gave them a reason to start their own business or time to focus more on the side hustle and making it a full time thing.
Then we had the folks we've cut off because of their toxicity, their disloyalty and the ones that weren't on the same positive path as you.
The racist folks were called out. How crazy is it now knowing we had white folks in our circles who really didn't fuck wit'us.
So many of us were able to spend more time with our children. It was interesting learning things about them we didn't know prior to the shutdown. For Single, working parents, Especially, its usually hard fitting time in to having conversations with our kids. Tha'Rona gave us that Quality Time. We got to learn new things together and believe it or not, some kids loved the fact that they had to teach their parents how to operate the internet. If you're like me, you played dumb in some situations just so your child(ren) would feel good about getting you over a learning curve. *wink,wink* And how DOPE is it for them to be able to say they taught their Mom/Pops something.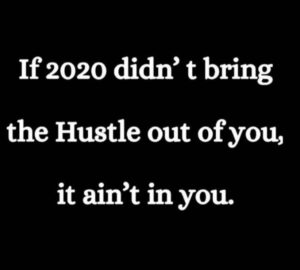 Then there were those of us who have always felt that there was more to life than always working a 9-5; Making other people richer. Wasting our talents… A lot of folks were laid off and forced to find other GRINDS to make ends meet. Real HUSTLERS looked at it as a Blessing in disguise and in the process we learned that NOONE Supports You More Than YOURSELF! And Oddly enough, Strangers and Friends will Hold You Down and Show Love MORE THAN Family! Now Aint That Some Shyt!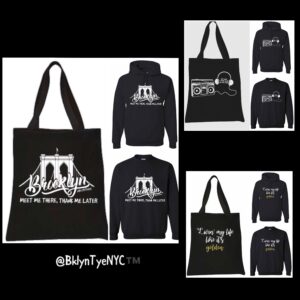 As a huge supporter of Black Owned Businesses, I started coming across so many Black Brands in Haircare, MakeUp, Skincare, Clothing, Childcare, etc. Like many others, I started ordering things online. So much so, I had deliveries showing up daily. USPS, FEDEX, AMAZON PRIME… Then I decided to start selling my own merch so I paid to have my website expanded and I added a SHOP link for my t-shirts, tote bags, hoodies, & More in various colors. Its been going well thanks to my supporters (and my blog readers). A HUUUUGE THANK YOU! Check it out here: http://bklyntyenyc.com/shop/ 
For some of us, our entire lives have been spent dealing with racist people, whether at work, where we live, where we shop/spend our money but 2020 made it difficult for them to hide. There were so many MORE black people Murdered by Police in multiple States, Karens & Kens Falsely calling the cops on Black people. The difference now is, we have everything being recorded. What's sad is, these white people KNOW they are being recorded, and still dont care about BLACK & BROWN lives because they know they have White Privileges that Supersede video proof.
The eye-opening was right on time though. By June, we were slowly adapting to the NEW WORLD. Our Allies were showing up and joining us in our Protest for BLACK LIVES because We do MATTER. At the same time, we were able to see who really cared about us through it all. Which family and friends called to check on us. Sadly for most of us, we learned it was time to start cutting people out of our lives. I mean, we were about 6 months deep in a pandemic and started realizing when the last time we'd spoken to certain folks and being made aware that the last few times we spoken was when (YOU) called them.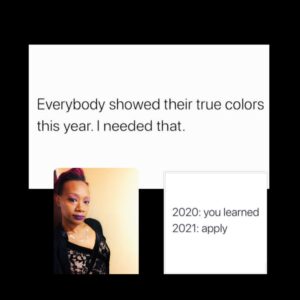 Talk about having 2020 Vision. The saying goes, "Hindsight is 2020" which basically means, it's easier to analyze and evaluate situations when we're looking back on them in the past, than when we're in the present moment so when we look back on these past 12 months, I will only remember the positive things I did to stay afloat. I wont focus on the ones who, still, to this day, have no idea if I'm dead or alive. I had to decide to PUT ME FIRST! When you fly in a plane, they always say to put the mask over yourself 1st then others because if you're not good, how can you make sure others around you are good.
Here are some things I've been doing to stay GOOD.
MEDITATE: It has taken me 3yrs to learn how to quiet my damn brain/mind/thoughts. Its always racing with plans and ideas. I started attempting 2 mins, then 5 mins and next thing you know, I was at 20 mins. Someone in 2020 who has helped me most with my meditation is Deepak Chopra. Here is a link to his website and app which will help you daily. He offers FREE Meditations. His voice alone is so soothing. Check it out: https://chopracentermeditation.com/
YOGA: Since 2018, I've taking BIKRIM YOGA classes in Brooklyn and they changed my life. Although COVID-19 Shutdown kept me from attending classes, I was still able to do the moves I'd learn. Many Yoga Studios around the U.S started offering online classes which introduced me to other teachers across the globe. I was also able to find a ton of FREE Youtube classes and Social Media pages offered free classes or for a low cost.
SUICIDE HOTLINE: 800-273-TALK // 800-273-8255. This has been a number I've memorized since I was a teenager. We should all have it memorized and it should be taught to our kids just like we teach them 9-1-1.
THERAPY: I remember watching t.v comedy classics and when therapy was being mentioned, they made it seem as if you were weird and crazy if you went to therapy. I remember a classmate being made fun of because he went to therapy. Years later I found out it was because he had a hard time dealing with seeing someone killed by a car. I also remember Therapy symbolizing rich white women with husbands who cheated. (Every LifeTime movie in the early 90's, lol). In 2020, it actually became a "Thing" to do. This year has been trash. Stress and Depression is at an all time high. It became somewhat cool to seek and get therapy. I haven't zeroed in on anyone permanent because for me, its a process. Its not something I can just jump in to; telling a stranger my deepest darkest feelings and having them make sense of the life I must continue living. But I do think it is another avenue of help.
READING IS FUNDAMENTAL: I've read lots of books this year by making sure I completed at least 2 books per month. Some were short books while others were rather long. I follow some amazing people on IG so I can always find a good recommendation but also by going through hashtags like #Books #MustRead #BlackAuthors. Check those out and they will lead you to many great reads as well as folks who will recommend other great reads.
JOURNALING/AFFIRMATIONS: I've always kept a journal but this year I went through one whole book and I am almost finished another one. I had so many thoughts to dump and I found myself feeling better each time. This year hit harder than ever in my entire life. I'll probably never read my words back but I am glad I had a way to get things off of my chest. After I would write my feelings down, in a separate book I'd do a list of 10 Affirmations then read each one back and say, THANK YOU!
POSITIVE/FUNNY/INTERESTING PODCAST: This year allowed me to tap more into self-care treatments and with that, I started listening to positive podcast shows on various platforms. I would set time out each day, mostly during my overnight shift to listen to shows that taught me something new, made me laugh and give me hope.
*Shows like:
SUPER SOUL SUNDAYS with Oprah. She always has great interviews with authors and actors and people we should know.
THE MOTH which has various storytellers, telling us short stories from a life experience, each episode.
THE READ with Crissle & Kid Fury. They are 2 of my favorite humans beacuse they are so funny and they talk about real life things we are going through. They also read letters from listeners and dish out funny, raw and honest advice and I look forward to their episodes each week.
RATCHET & RESPECTABLE with Demetria L. Lucas, is hands down, my favorite. She is my cousin in my head and if you follow me on IG (@BklynTyeNYC) you know I mention her often. She is as real as they come. She's also a Cancerian like myself so I AM HER AND SHE IS ME! She is an author and has been an editor and has even worked with Essence magazine and she has blogged and basically has been a mentor for me from a distance. Yes I'm Rambling because She is DOPE AF! So check her out!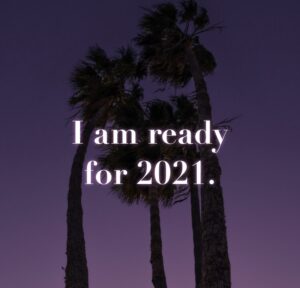 As we move into TWENTY-TWENTY-ONE, let us focus more on what's most important to us and for us.
We don't have to be hateful towards others or talk bad about them. The easiest thing to do is to stay far away from them.
Stop telling your next moves on social media. That makes it easier for naysayers to pray for your downfall.
Keep your family and True friends close. The ones who hold you down and have your back. Not the ones you feel obligated to keep around because they are "Blood" – The ones in your immediate circle should be the ones who've showed you their loyalty in 2020 if never before.
Most of All, Keep GOD FIRST! Lord knows we need HIM and we must THANK HIM EVERYDAY for allowing us to see a new day and waking us up in our right minds when millions have not been as fortunate. Be Grateful for what you have at all times. It can be taken away when you least expect it.
I THANK YOU all for reading my words every time I post. THANK YOU for sharing with your family, friends and followers on social media and text messages. THANK YOU to all of yall who have purchased my merch. Please know you are greatly appreciated. STAY TUNED for more items in 2021. If you have dreams and goals, THE TIME IS NOW! As I always say, Life is What You Make It, So Make It Great! KEEP GOING!
HAPPY NEW YEAR AND IN 2021 CONTINUE TO
SPREAD LOVE, ITS THE BKLYN TYE WAY!