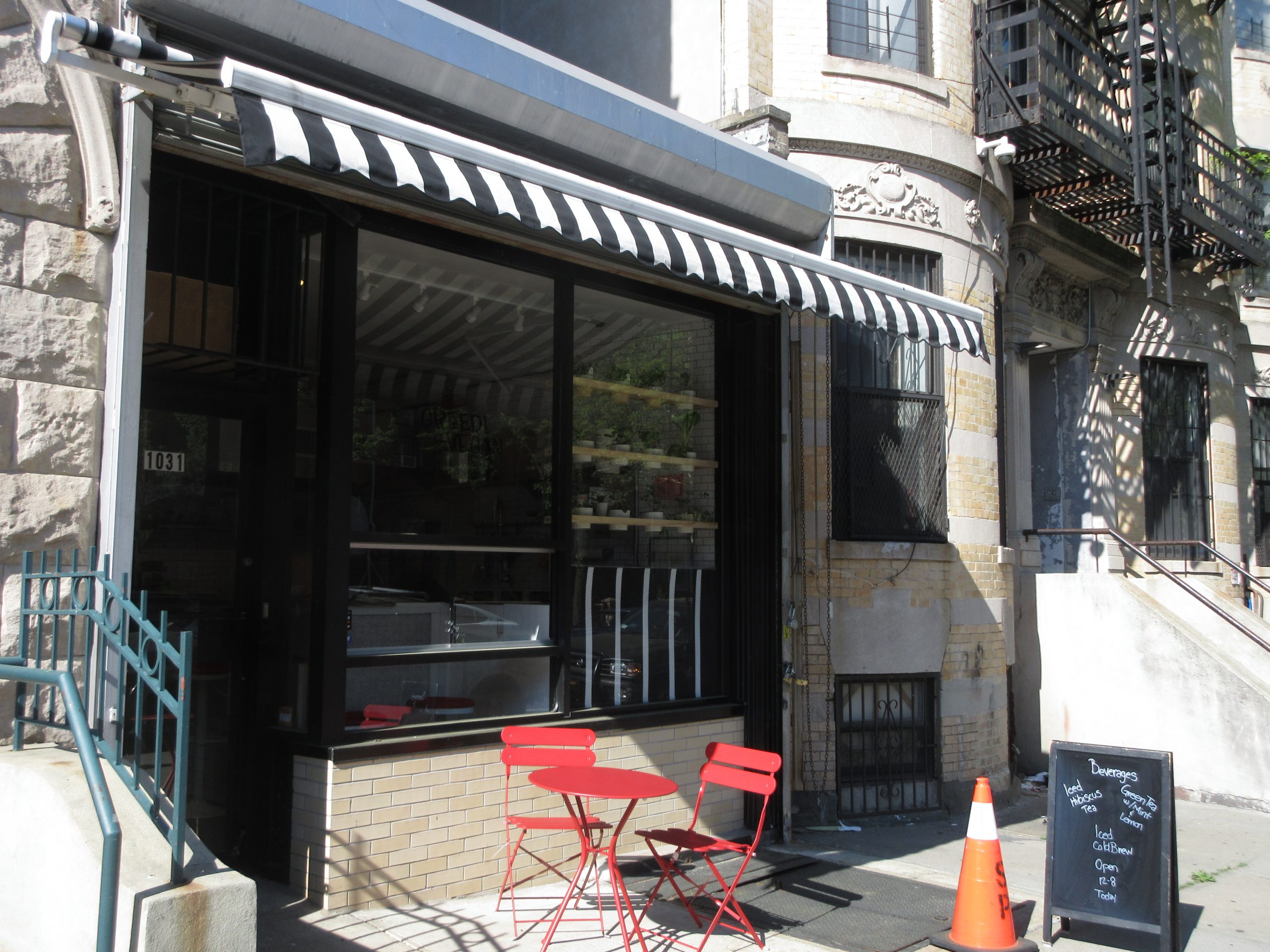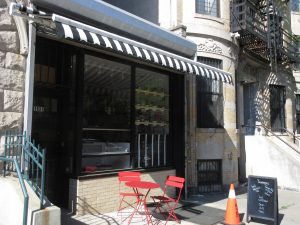 Being born & raised in Brooklyn, mostly in BedStuy, Do or Die! (Bedford-Stuyvesant). The home of Biggie & Jay-Z; it's so weird going out there these days and seeing how much my old stomping grounds and surrounding areas have been Gentrified. However, recently I was put on to a New, Black Woman Owned Vegan spot called GREEDI VEGAN. This last year I have been paying attention to what I eat and for the most part I try to live a Vegan Lifestyle although I still eat seafood at times and every now and then a piece of chicken or 3. *Shrug*  Needless to say, I couldn't wait to check it out.
A few days ago I finally had a chance to head on over. I wanted to have a second opinion, so I brought my 11 year old; my Heavy Hitter (Heavan) along too. I have been bringing her out with me a lot lately when I am going to support Black Owned establishments and events to show her how easy it is to SPREAD LOVE to our people. It is always a good feeling to see her watch black people grind. I always want her to see folks who look like us doing tha'damn'thang. Its easier for her to relate and be inspired that she Too, can be an Entrepreneur, even Now at her age.
GREEDI VEGAN is located on the corner of a residential block in Crown Heights (1031 Bergen St, Bklyn) which gives it that homely vibe by blending into the neighborhood. It's also convenient to get to if you travel via MTA Buses (B44, B25, B26) or Subway (A/C/G trains), like I do. When we walked up, there was a table and chairs outside. I always like the added option of being able to sit outside when the weather allowed. We couldn't wait to go inside and try the food out.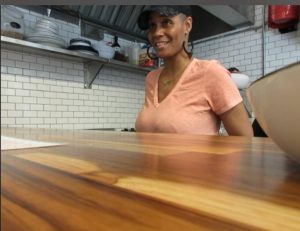 As soon as we stepped inside we were greeted by, not only the owner, Latisha and her assistant but the aroma of food and light music. Instant Droolage! GREEDI VEGAN has limited space although you can sit and stay awhile. Latisha explained, she wanted to go with a smaller space for a few reasons but mainly because it is somewhat difficult and expensive to run a larger business when you consider the cost of supplies, rent, location and being in charge of many people. Honestly, when I eat out, I prefer it to be a smaller environment because I know I wont have to wait long and I am assured the food is being prepared just for me at the time I order.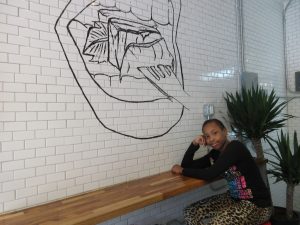 The counter top setting has hooks underneath for hanging up your bag or jacket. Also there's a place to charge up. These 2 things, for me are a bonus because I am always out and about so a place where I can grab a bite to eat plus charge my cell and be comfortable without having to hold my heavy tote bag in my lap is definitely a plus. Although it's not a restaurant, I wouldn't call it a "Fast Food" joint either. To me it's more like a "Quick Bite To Eat" kind of spot. If I had to creatively describe the experience up until this point, I would say, it was like:
'living across town or different boro (borough) and being in the neighborhood that your favorite auntie lives in so you decide to stop by for a quick meal. You don't stay long because you know she has a full day. Or you stay just long enough to get full but before she starts asking you why are you still single…' Nothing too heavy and you know it will be Healthy and made with love!
Another thing I loved was that the kitchen was right in front of you. I am always leary when it comes to others preparing my food. Greedi Vegan was like a large kitchen at Auntie's house. Watching her prepare your meal over enjoyable conversation. She and I discussed the "NEW" Brooklyn as I asked her questions and she even referred other BLACK OWNED businesses in the City of Brooklyn. My Heavy Hitter chimed in too. One thing Heavan wanted to know was, "Why did you name it GREEDI VEGAN?"
Latisha explained there were many reasons like:
She really wanted a space where people who aren't vegans feel comfortable.
She wanted to go against all of the stereotypes about vegans not really eating. *Allegedly, they only eat Bean Sprouts and Grass*
She loves to eat and considers herself Greedy bcuz she loves eating (interesting) food.
The Mission at GREEDI VEGAN is to excite Vegans because there's diversity in the menu but also to convert carnivores as well. It's all about taste and texture.
Heavan and I looked over the menu and it was hard to decide on what to go with but in honor of that day being Taco Tuesday, Heavan went with the Chicken Tacos and I had the Fish Taco.  Both were hard shell.
This was my 1st fully fledged experience with real Vegan food and had I not known what I was eating, I would have never guessed it was not the usual Fish I was accustomed to. Heavan felt the same way about the chicken. I couldn't believe how tasty it was eating Vegan style. Best of all the pricing was good. I've always heard how expensive it is to eat healthy but I was happy that it was affordable. Before I asked for the bill I decided to order TAKE OUT to bring home to my son. I went with the GREEDI sliders called GREEDI MINI (3 meatless mini burgers topped w/pickled pineapples & jalapeno, romaine lettuce, campari tomatoes and vegan cheese) because he loves burgers. I wanted to have him try it and see his reaction. I wouldn't call my son a picky eater but he usually has to inspect what it is before he tries it out. As soon as I handed over the box, he went in. I noticed he savored the flavor in between chews so I knew he loved what he was tasting. Once he was done, that's when I told him it was Vegan. He immediately turned his face up but then relaxed and said "well, if Vegan food taste like this I'd eat it all the time. SOLD!!! I was happy because it would be so much easier to prepare healthier foods for my kids if we were all on the same page.
VEGAN IS LIFE!
I really cannot wait to get back to GREEDI VEGAN. It will be my main spot to eat when I am in that part of Brooklyn. Heavan suggested it be "Our" spot to spend time together. I'm definitely down with that.
They are CLOSED on Mondays but are OPEN Tues-Fri: 12p-8p. And on Sat-Sun: 10a-6p.
*Hopefully as the weather gets warmer, GREEDI VEGAN may stay open a little later during the weekend Summer months but feel free to call (347)-627-7900 ahead of time to confirm.*
If you are not able to physically get to Greedi Vegan and are not too far from the location, they are available for delivery via SEAMLESS so Check them Out!
I recommend this spot to anyone looking to continue their Vegan journey and to those who are looking to try a new way of healthier living. So, stop by, tell her I sent you and if you DO go, please drop a comment below to let me know how your experience was. As Always,
SPREAD LOVE ITS THE BKLYNTYE WAY!