Gabrielle Union Presents, "YOU GOT ANYTHING STRONGER?" book tour…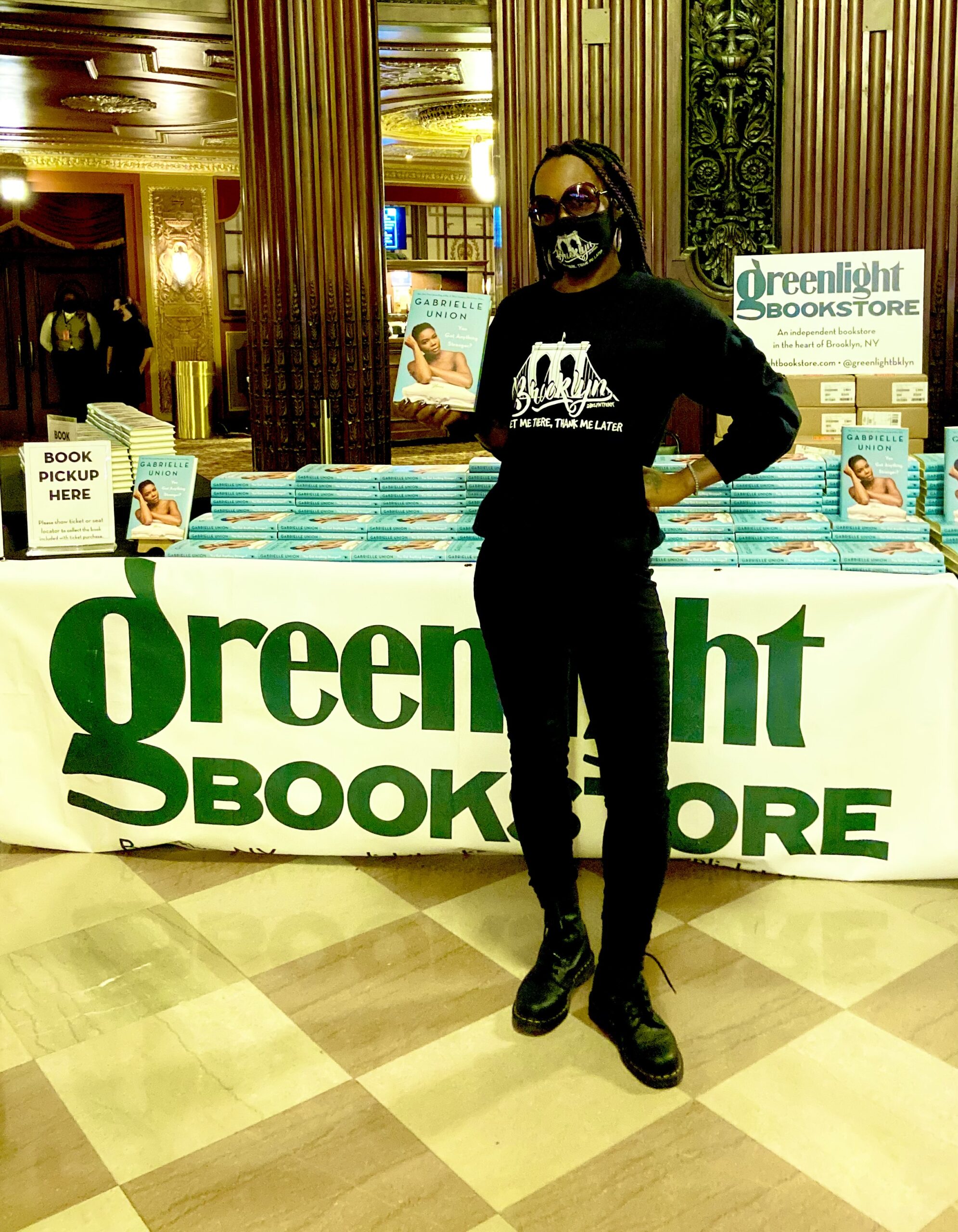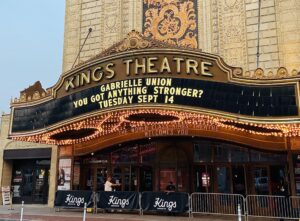 Tuesday, September, 14th 2021, I took a trip to FLATBUSH, BROOKLYN, (from Southside Jamaica, Queens) to The KINGS THEATRE, so I could attend, Gabrielle Union's 1st stop of her book tour; for her new book, YOU GOT ANYTHING STRONGER? which dropped that day. If you've read my last blog on her, then you know my love for her. (If you didn't read it, Click Link-> Gabrielle Union Collection NY&Co) Because of our 'new way of life', it was sort of like an all around VIP entry because, due to new NYC Mandates and restrictions, in order to enter the theatre, you had to be COVID-Vaccinated. At least 1 shot in, which I was. (I am currently Fully VAX'd)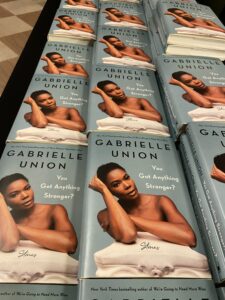 Once inside the theatre, pass regular (NYC) security measures, we were told to go to a table straight ahead and pick up our FREE copy of the book. I started to head to my seat and although I had just had my 1st Taco Bell Chalupa Supreme (No! Seriously, It REALLY was My Very, 1st One, EVER) before I got there, I still went on and made a stop at the concession stand for some popcorn. It was either that or beer and I was heading to work once I left the event so that wasn't an option for me. There is just something about coming to a theatre, of any genre, and NOT buy something. It's a MUST! It's an unwritten rule if you didn't know it. You're Welcome! lol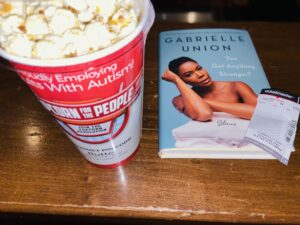 I arrived at my seat. We were all seated on the ground level – Socially Distanced, of course but still this was a more intimate setting. We had about 20 minutes until Gabrielle Union would hit the stage so I skimmed through the book. I love the way she writes. As if she is talking to you Live & Direct! She starts off reminding us on where she left off with her last book, "We're Going To Need More Wine." Before reading her last one, I barely knew her outside of her acting. I mean, she was someone I'd admired for some time. I'd seen her movies. I'd watched, Being Mary Jane. We ALL knew who her husband was. I was so HYPED when I had an opportunity to do a write up on her when she launched  her SPRING 2018 Collection at New York & Company. Needless to say, I couldn't wait to dive into this 'read'.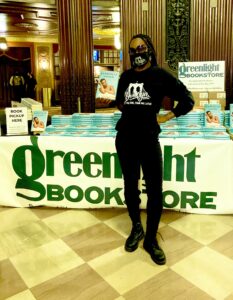 In, WE'RE GOING TO NEED MORE WINE, Gabrielle Union lets loose on her past growing up. She opened up and let us in when, for the first time, for most of us, we learned about her being raped while working at a Payless shoe store. In Depth. The details made me cringe. I cried. She wrote it out and made you live through that horrible ordeal. No one should ever have to go through what she went through. In her last book, you recognize her strength. She was transparent for sure. But in this latest book, LORDHAVEMERCY… the title, YOU GOT ANYTHING STRONGER? was my mood for the majority of the book. (And Yes, I had something Stronger as I Read. IYKYK, lol)
But before I get ahead of myself, lets get back to this evening at hand… BEFORE I completed the book…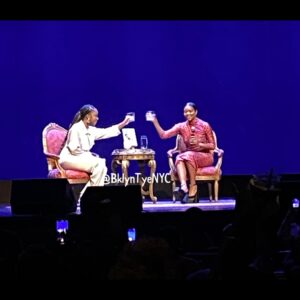 The host and interviewer, was nonother than, Gia Peppers (@GiaPeppers) who I love and admire. She's not Originally from NY but she lives in BROOKLYN and has earned her BKLYN PASS/CARD. If she didn't mention it, you would not know it because she is SO BROOKLYN! Her 'Style n Grace', stepped on stage hand and hand with Gabrielle Union as Cheryl Lynn's, GOT TO BE REAL played as their soundtrack. It spoke volume. I pay attention to detail. I already knew Gabrielle Union was a REAL G wit NO Fux to GIVE so we were in for a real treat. She was going to keep it Really REAL. A'Hunnid (100%). NO SugarCoating. LIVE AND in this NEW BOOK! We stood up to Applaud them both. After a lil'two-step, they sat down and right off the top they toasted; speaking into existence that this 2nd book, WILL be ANOTHER one of Gabrielle's books on the Best Sellers List.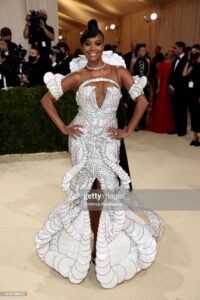 Before the 2-"G's" got into, "You Got Anything Stronger", Gia first complimented Gabrielle Union on her MET GALA 2021 Look the night before. She said her dress which took 1400 man-hours to make, was to represent and inspired by CHANGE. "You can not stop Change, You can not Stop US!" Gabrielle Union said. She mentioned a moment where she looked at Teyana Taylor and for a split second they looked at eachother like 'How Are We Here???',,, and just that fast their mutual eye contact said, "OF COURSE WE'RE FUCKING HERE!" And let me tell you,,, I FELT THAT! Five minutes in and Gabby was PREACHING!… "We always feel happy for crumbs half the time because we've been starving but the reality is there is no culture without US it starts and begins with US so you need US actually more than we need you so lets get comfortable in this BISH!!!" Gabby said.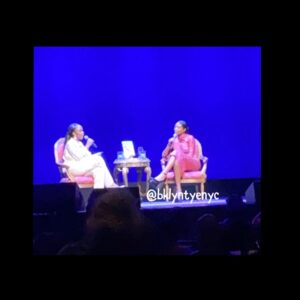 Well, After the collection plate was passed (lol), she explained with book number 1, while putting it together, she keep some things out because she was not only scared of what people may say but she would also have to talk about it once it was out to the public. Then she started meeting people who had read the book and she felt Seen, Protected, Loved. She realized it was OK to be Vulnerable.
Fast forward 4 years, – lots of therapy. The birth of two daughters, Zaya and Kaavia James. With book 2, she was no longer afraid. She had more to say. Gabrielle said a voice kept telling her, "Your vulnerability is your Super Power… Your Vulnerability is what builds Community…" Her being Vulnerable helps others see, its not just them going through (fill in the blank).
Gabrielle Union let a lot of Shyt go, she said. Even when others told her people were invested in lies. Preferred it, in fact, she still had to tell her Truth. Once the book was put together, she knew it was going to save (more) lives. I know for me, personally, after reading this current book, it definitely gave me understanding about my life. Who I am as a person, friend, mom, entrepreneur &more. Most of all, Who I Want to Be.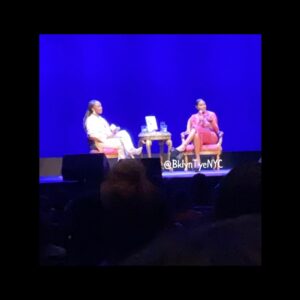 Gabrielle Union touched on Depression and its something most of us have all suffered from in the past and currently going through. Some of us manage it in various ways. Gabby also mentioned Passive Suicidal Ideation which I had never heard about. Passive Suicidal Ideation is when people are having thoughts about death or a desire for death, but they are not making plans to harm themselves. While passive, these thoughts can be a risk and coping can be difficult. If you are having passive or active suicidal thoughts and are concerned you may hurt yourself, call the Suicide Prevention Lifeline (1-800-273-8255) or text the Crisis Text Line (HOME to 741741). *info from ChoosingTherapy.com*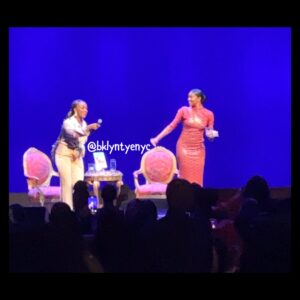 To end the night, Gia Peppers Saluted, NO… Watered Gabrielle Union by telling her she gave us hope in so many ways. She said she means so much to black girls everywhere. Gia said, "You continue to show up for us." Gia went on, "You are saving us." Gabrielle Union, like Gia said, has been doing it for so long. In movies, television, being an advocate for violence against women. I teared up when Gia told her, "We need to know people we look up to matter so much…" and added, "THANK YOU for always choosing to come back to US." Standing Ovation of course! After some air kisses and waves, Janet Jackson's "Together Again" came on and we sang along. The mic was even passed around. They exited the stage as they entered, with song and dance. (The part about her meeting Janet Jackson at an audition is Hilarious… Read the Book!) Oh what a night. The energy shared amongst those of us there was so needed. The words spoken, Motivational. I couldn't wait to read the entire book which I started on the bus and finished the next day.
I go more into the experience on my podcast Episode 3: FREE YO MIND, so check that out. Thank you for reading. Copy the link and SHARE SHARE SHARE! Thnx In Advance! *If you haven't as of yet, check out both of Gabrielle Unions books, "We're Going to Need More Wine" & "You Got Anything Stronger?" available everywhere books are sold.*
And As Always, SPREAD LOVE ITS THE BKLYN TYE WAY